Village in the Third District, Gürtelbogen
competition, 1st prize
Vienna 3
2023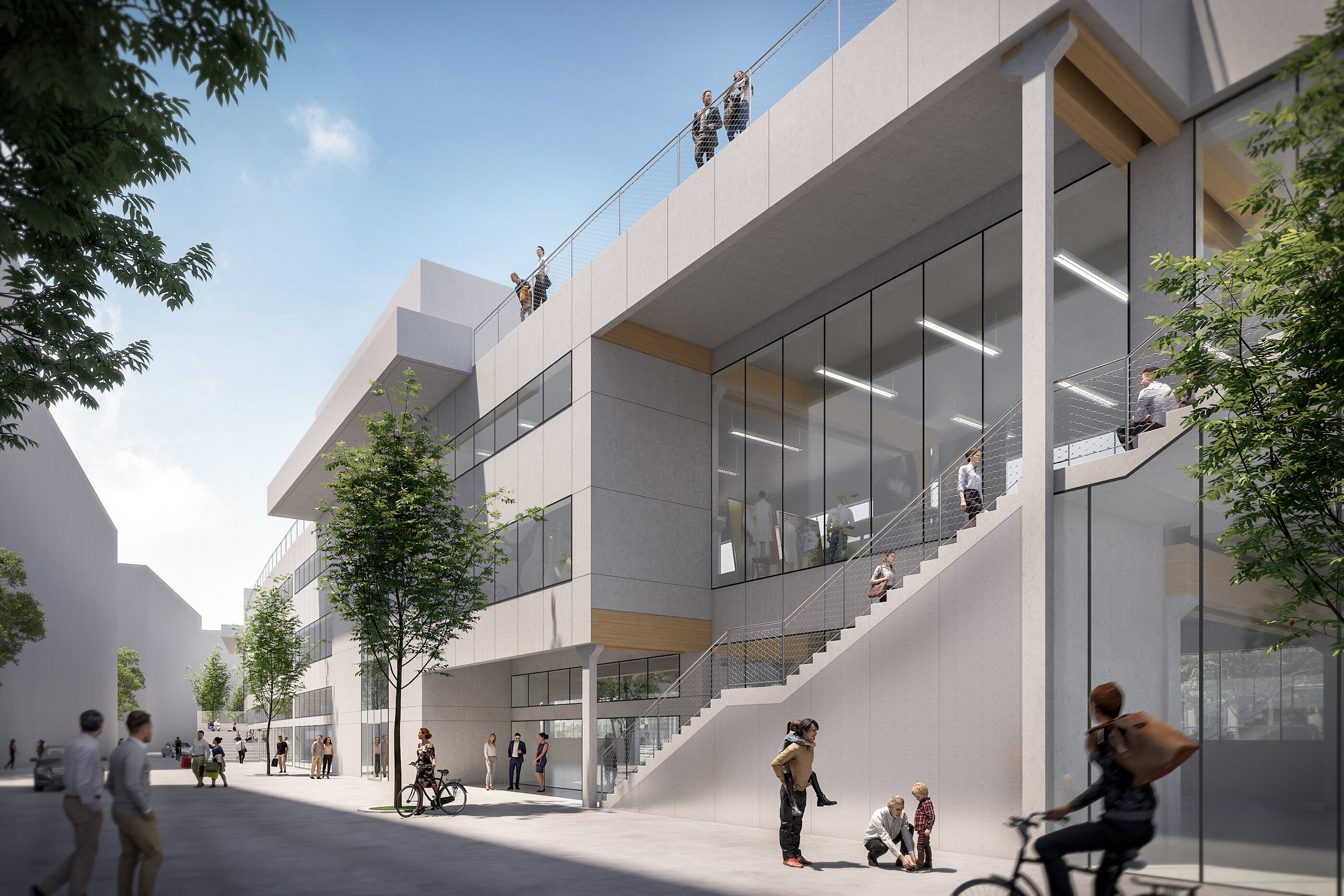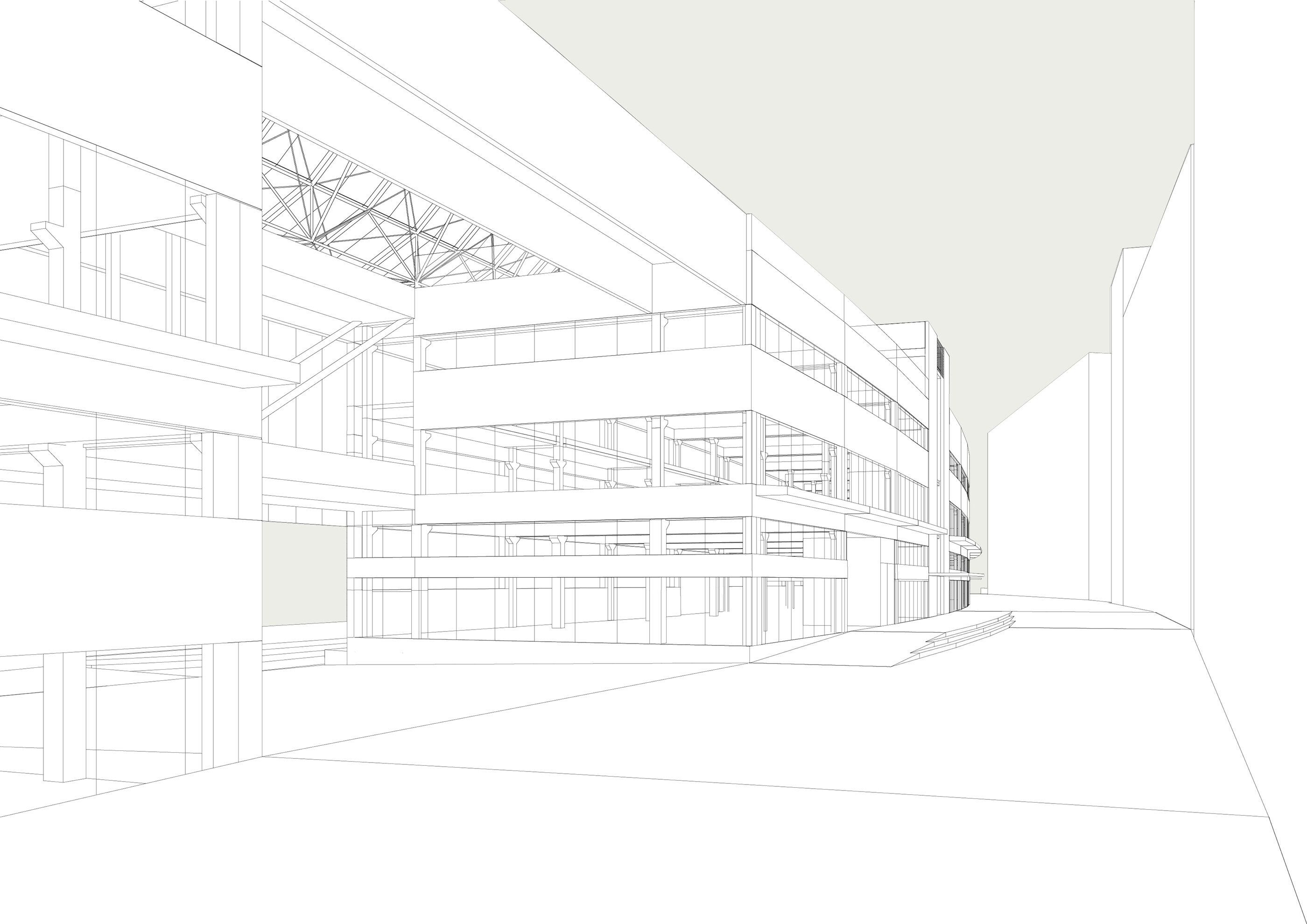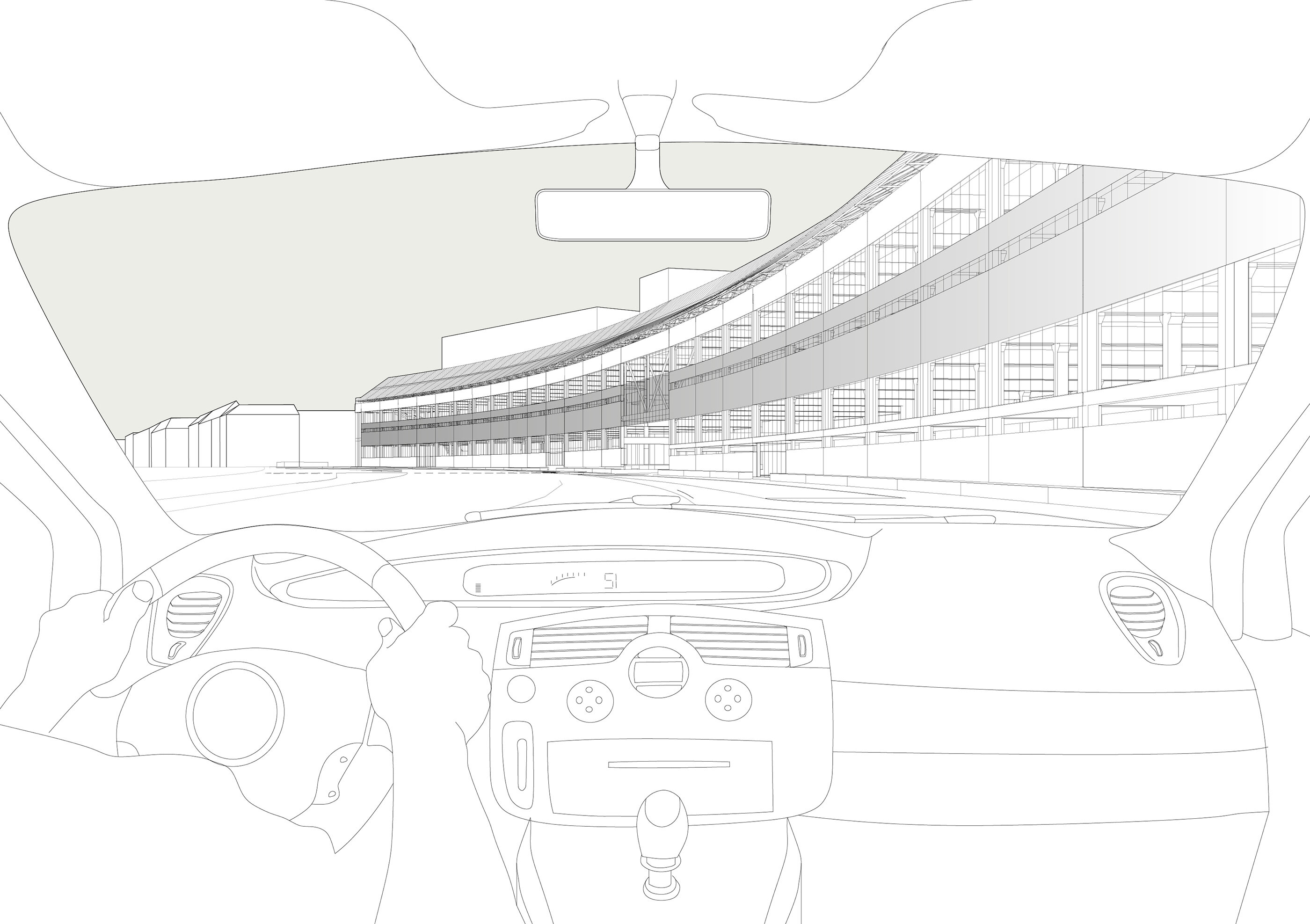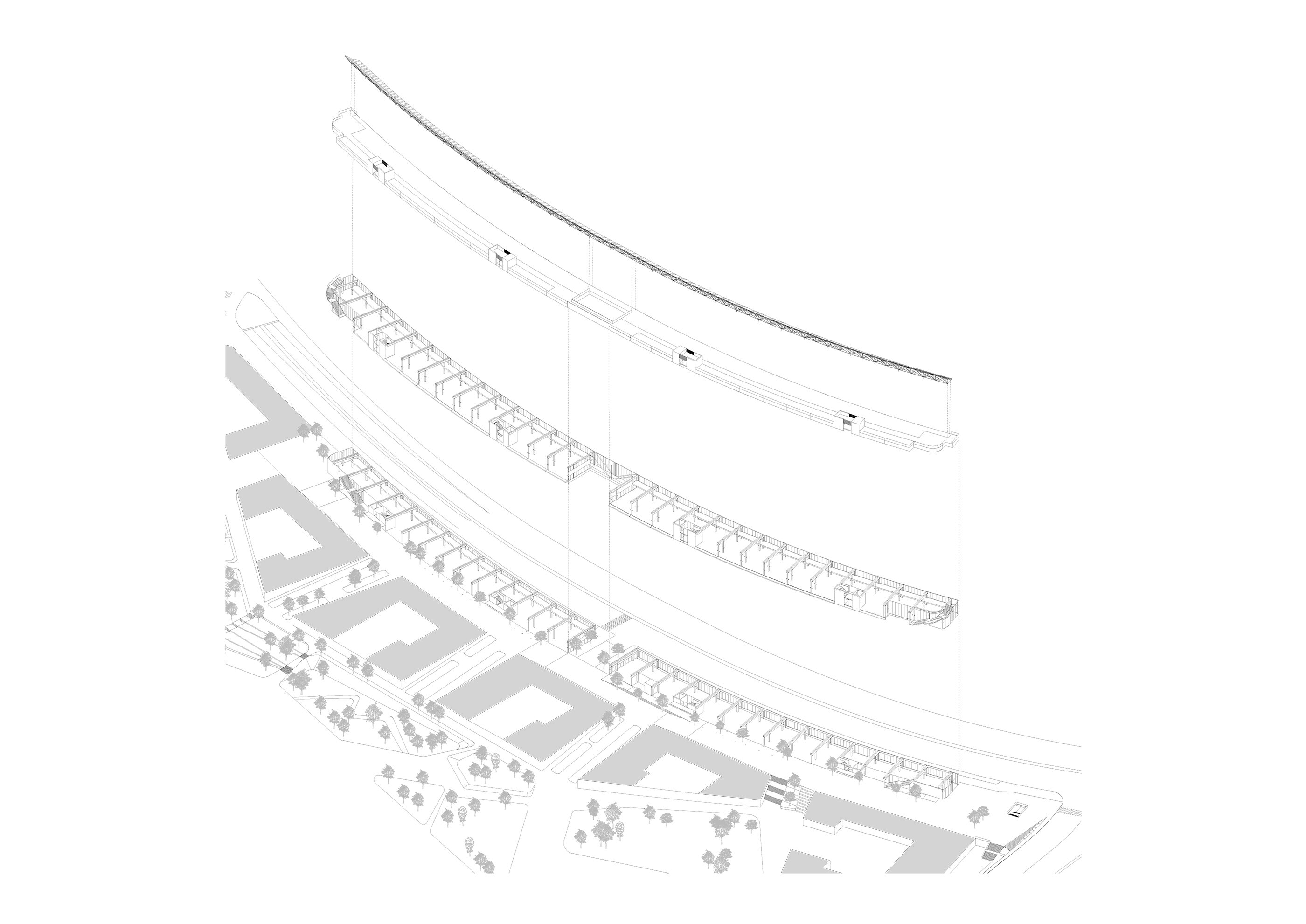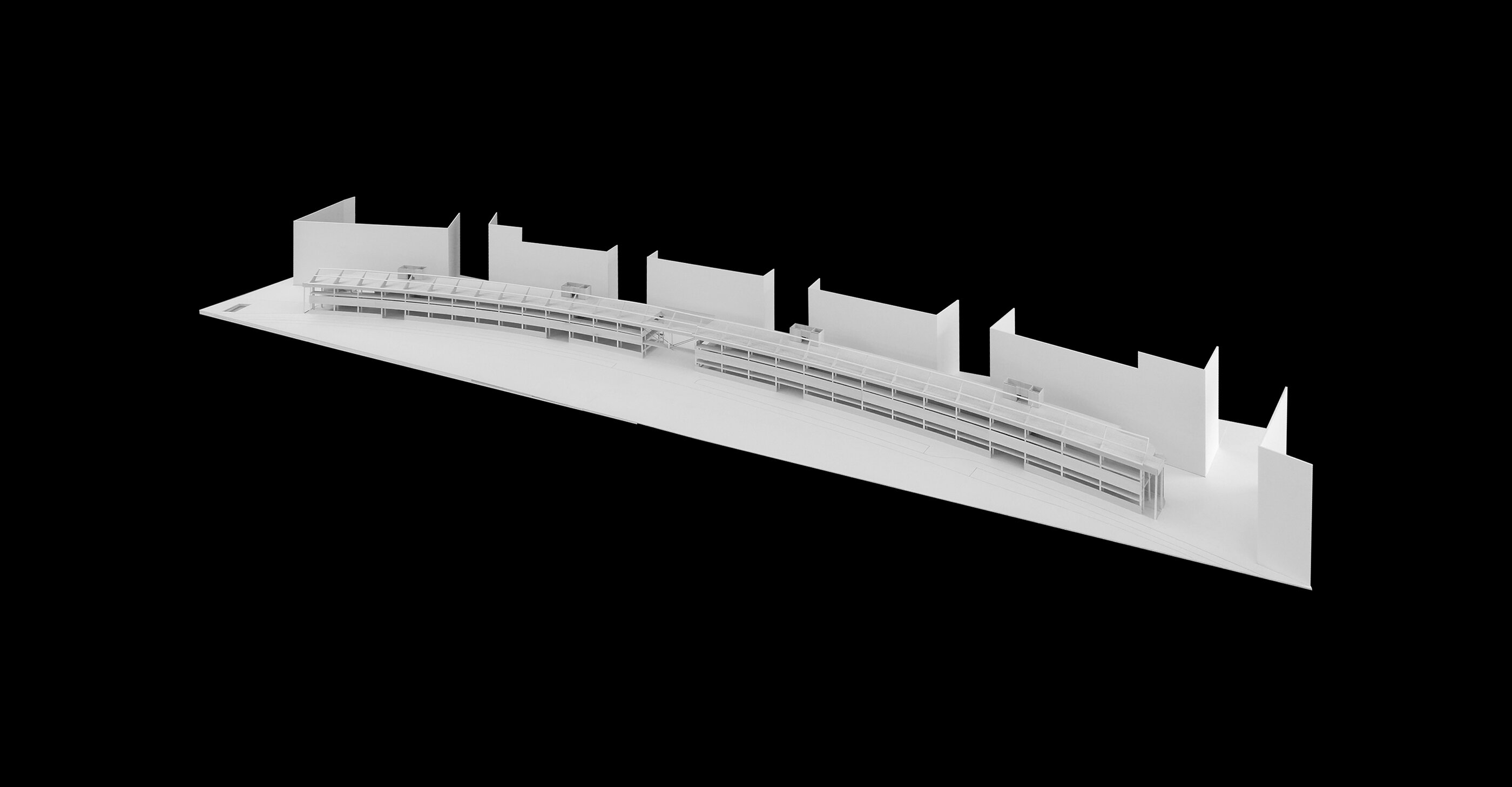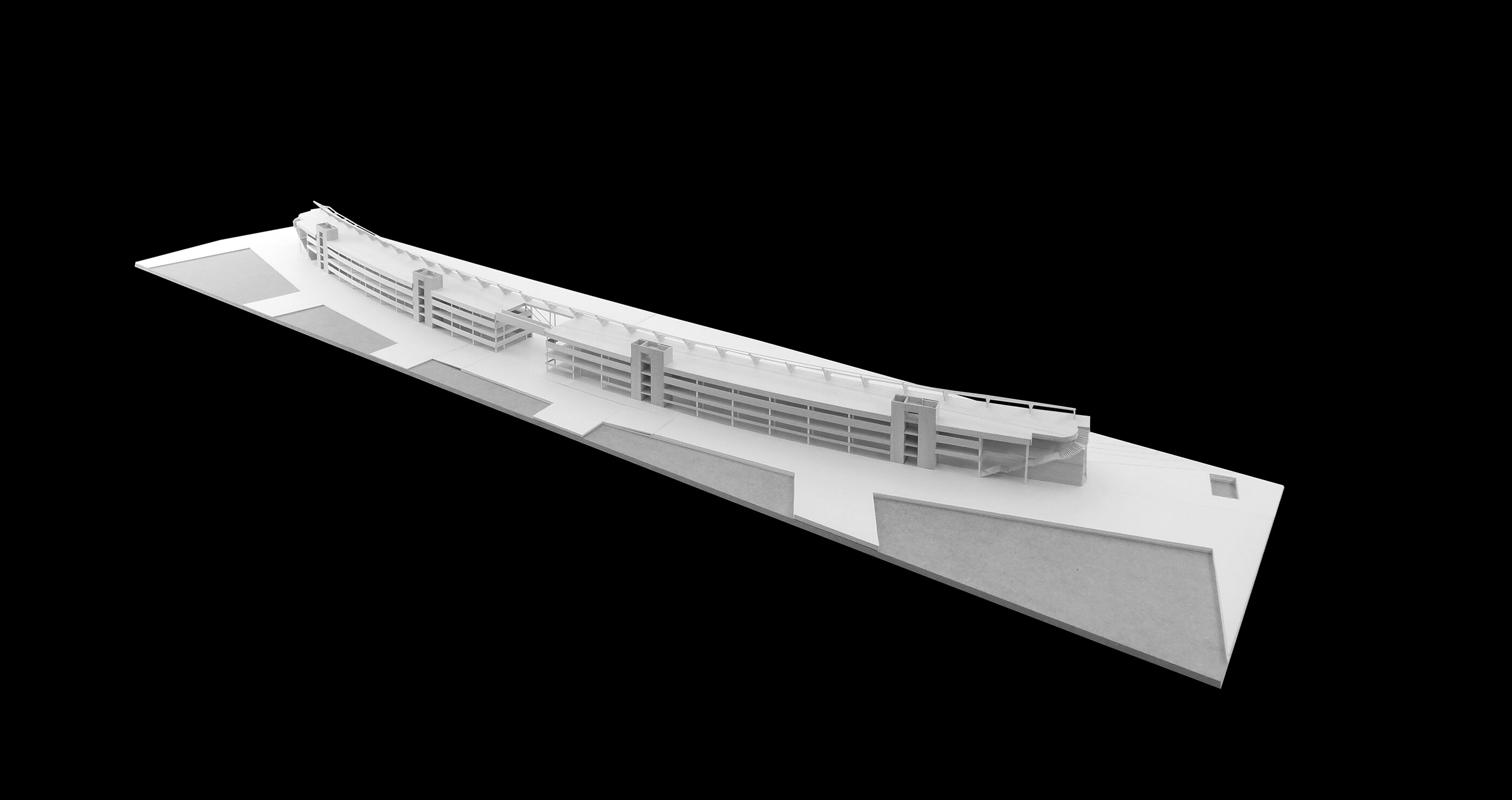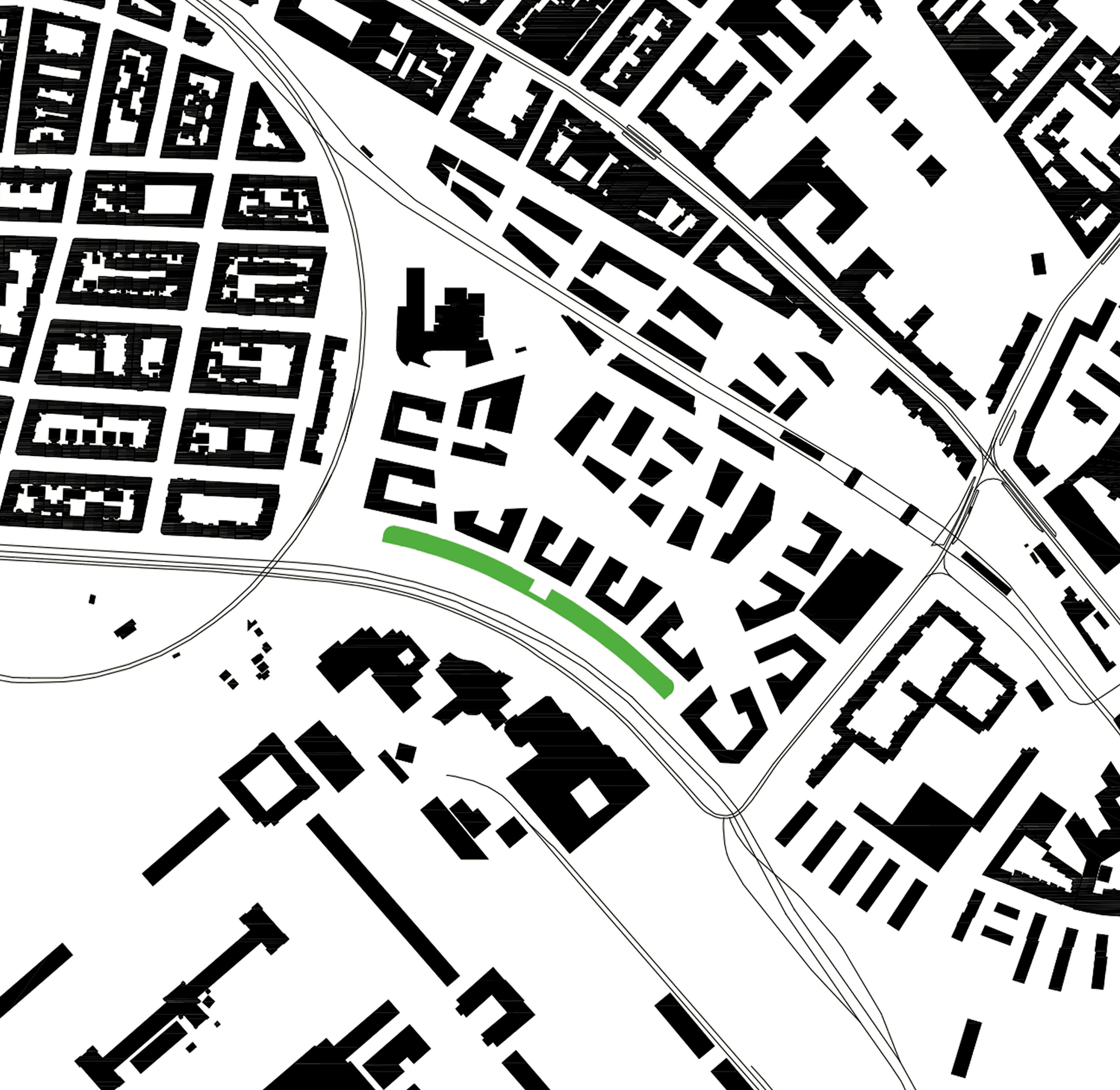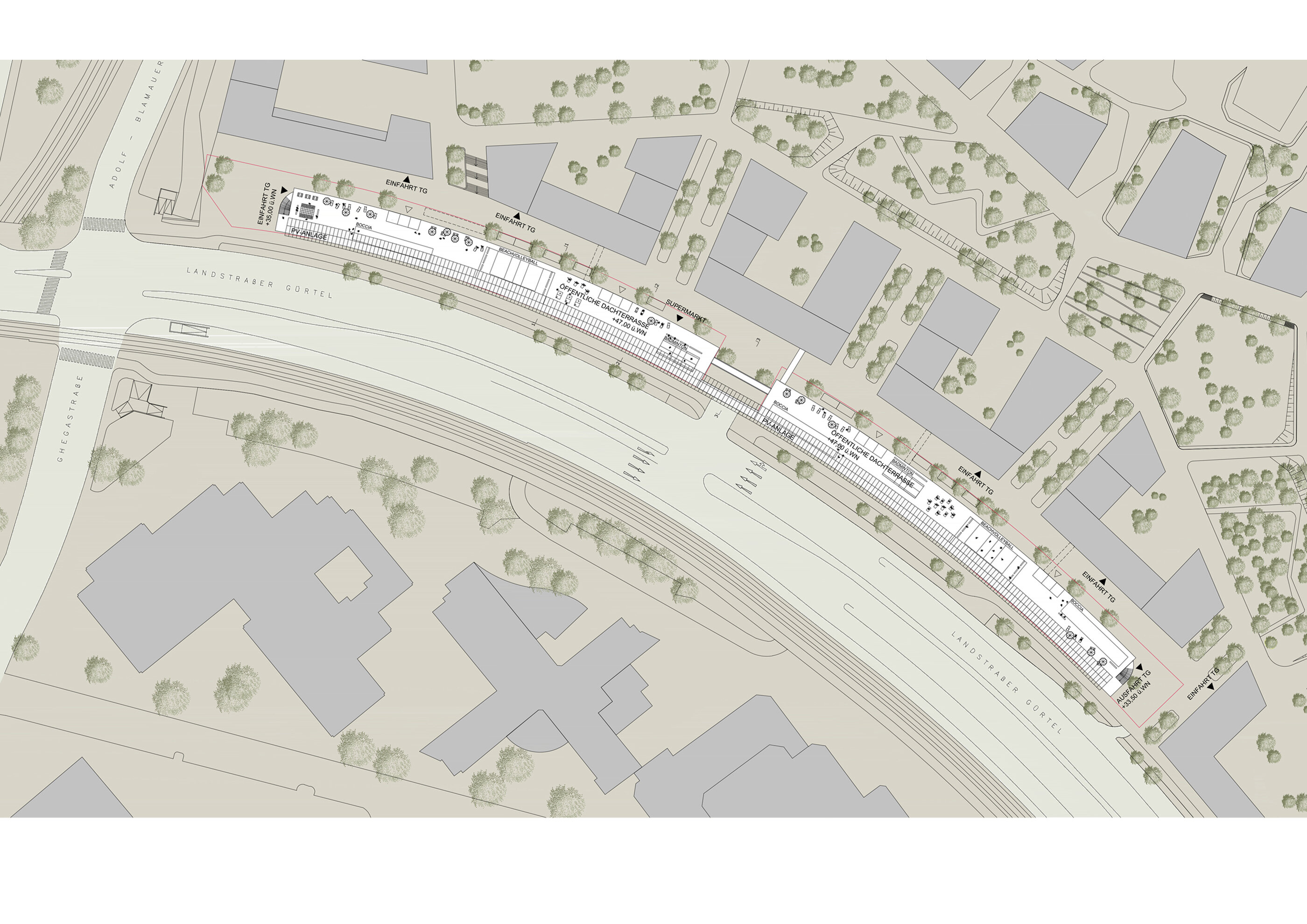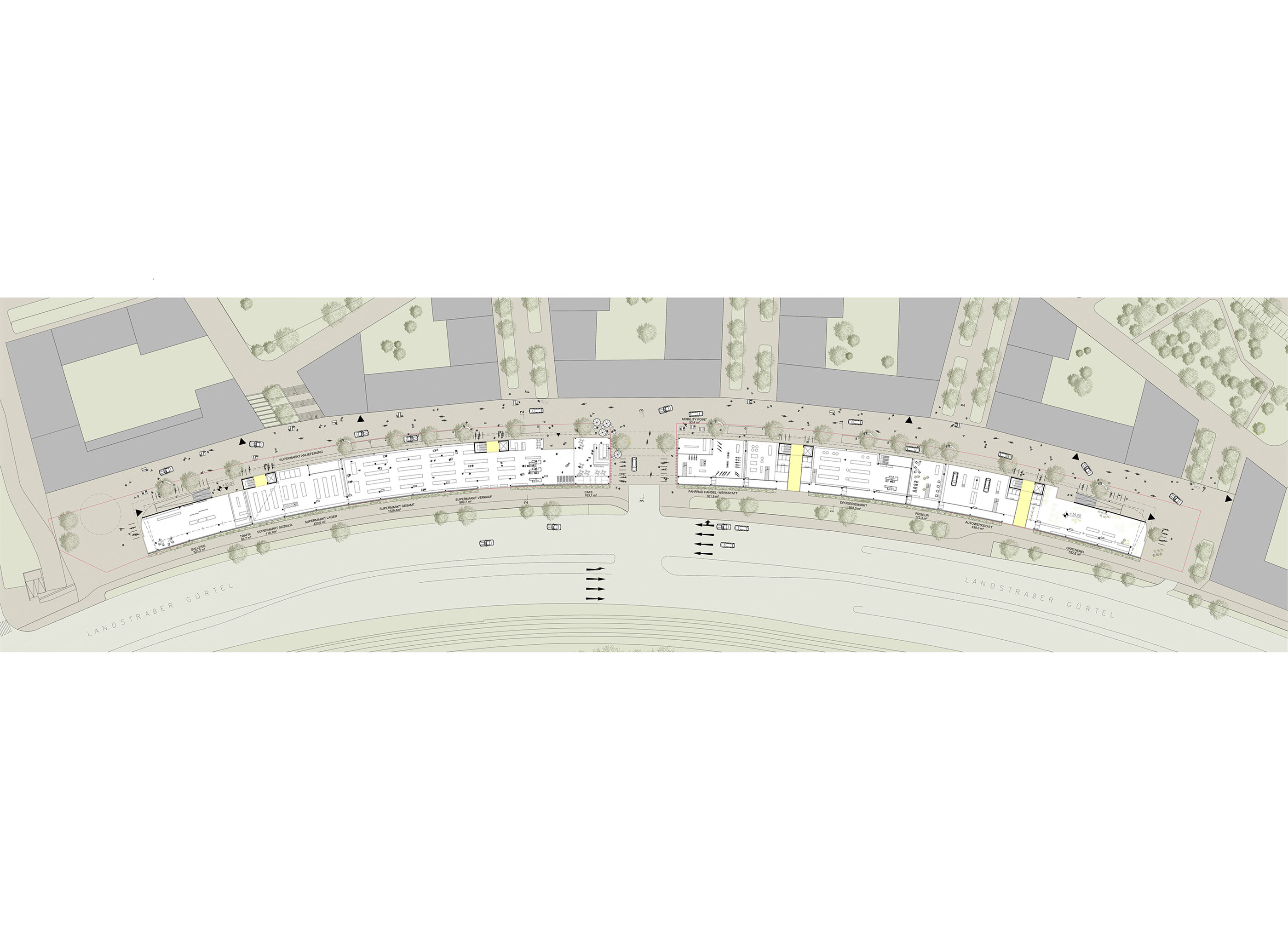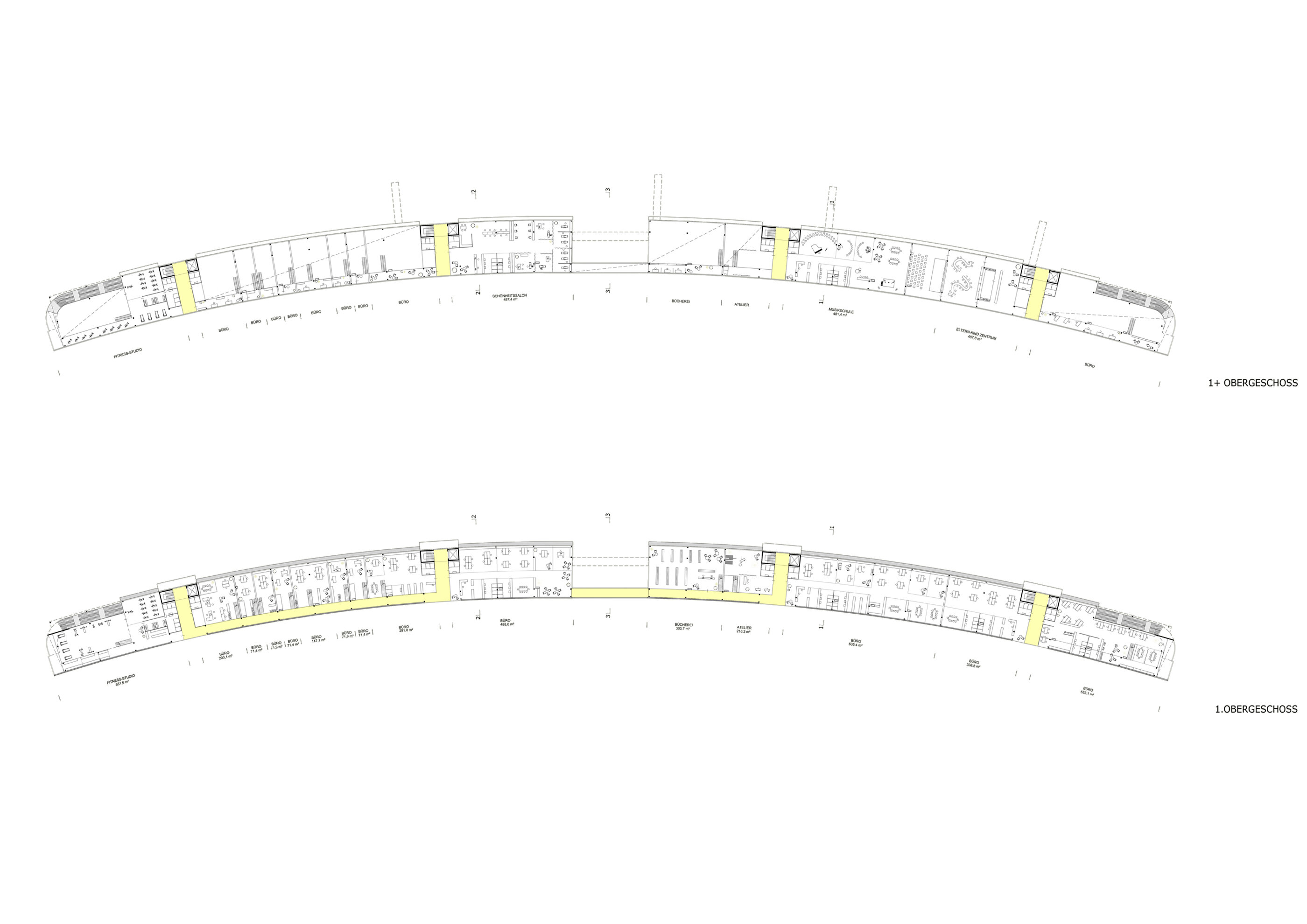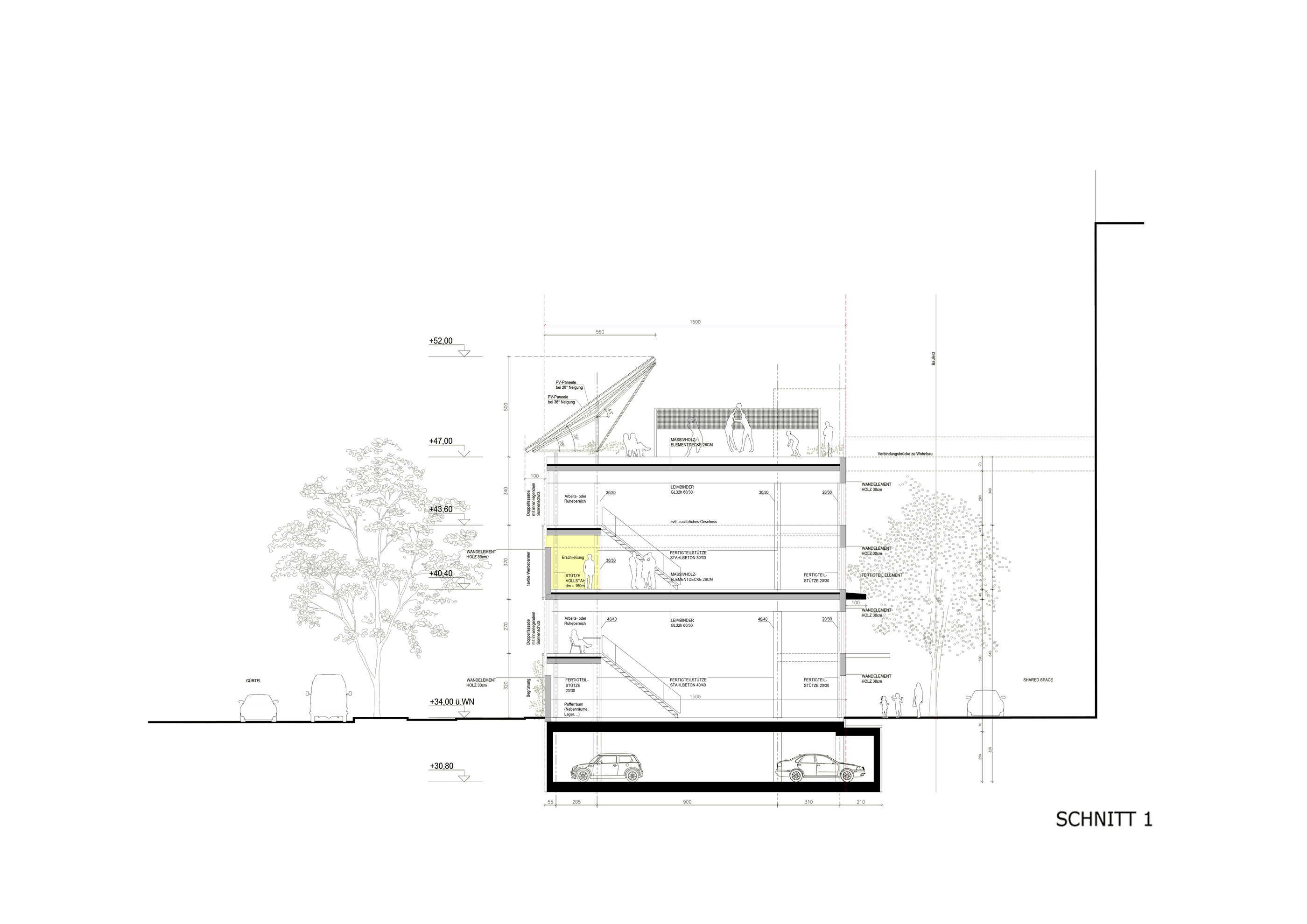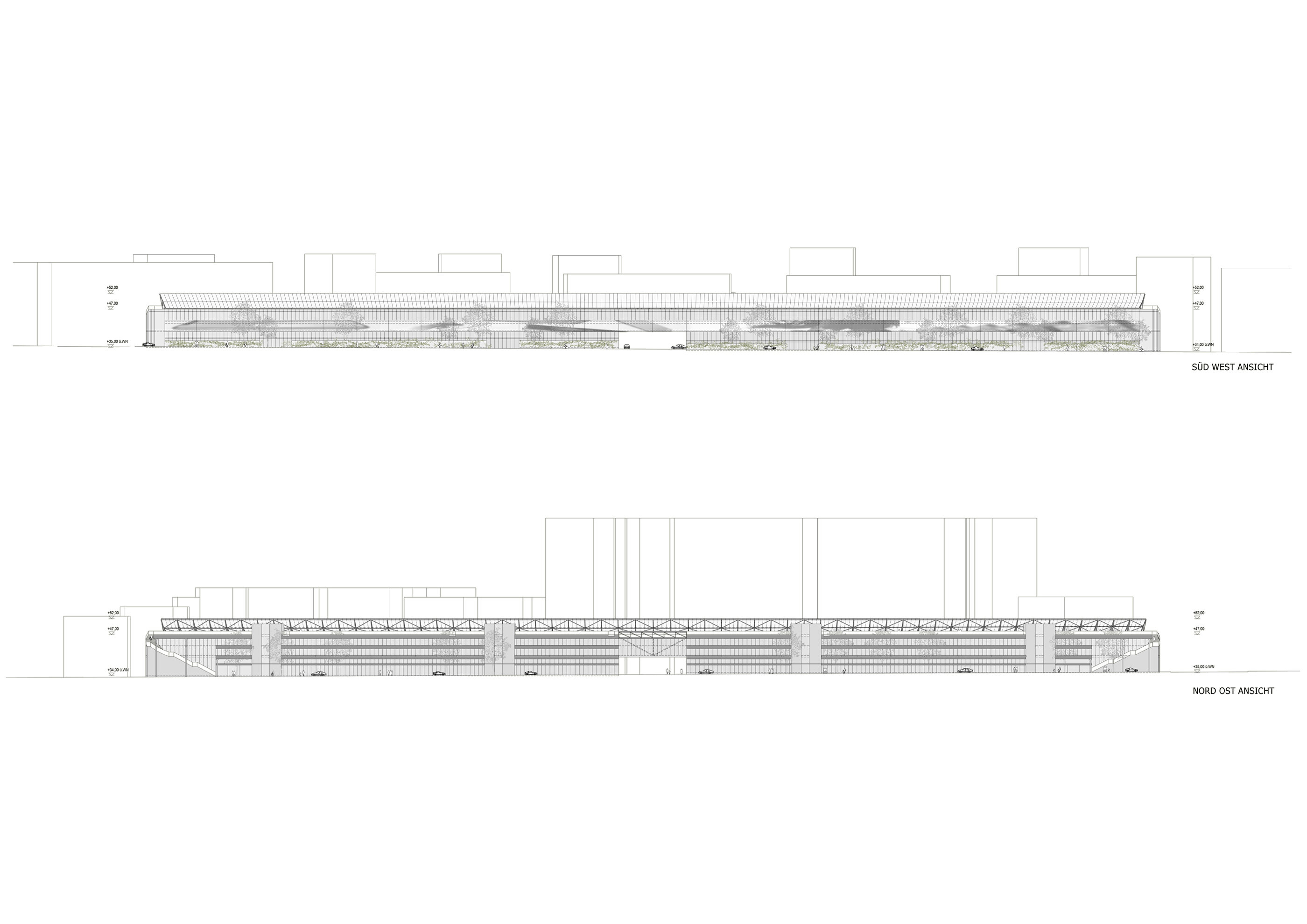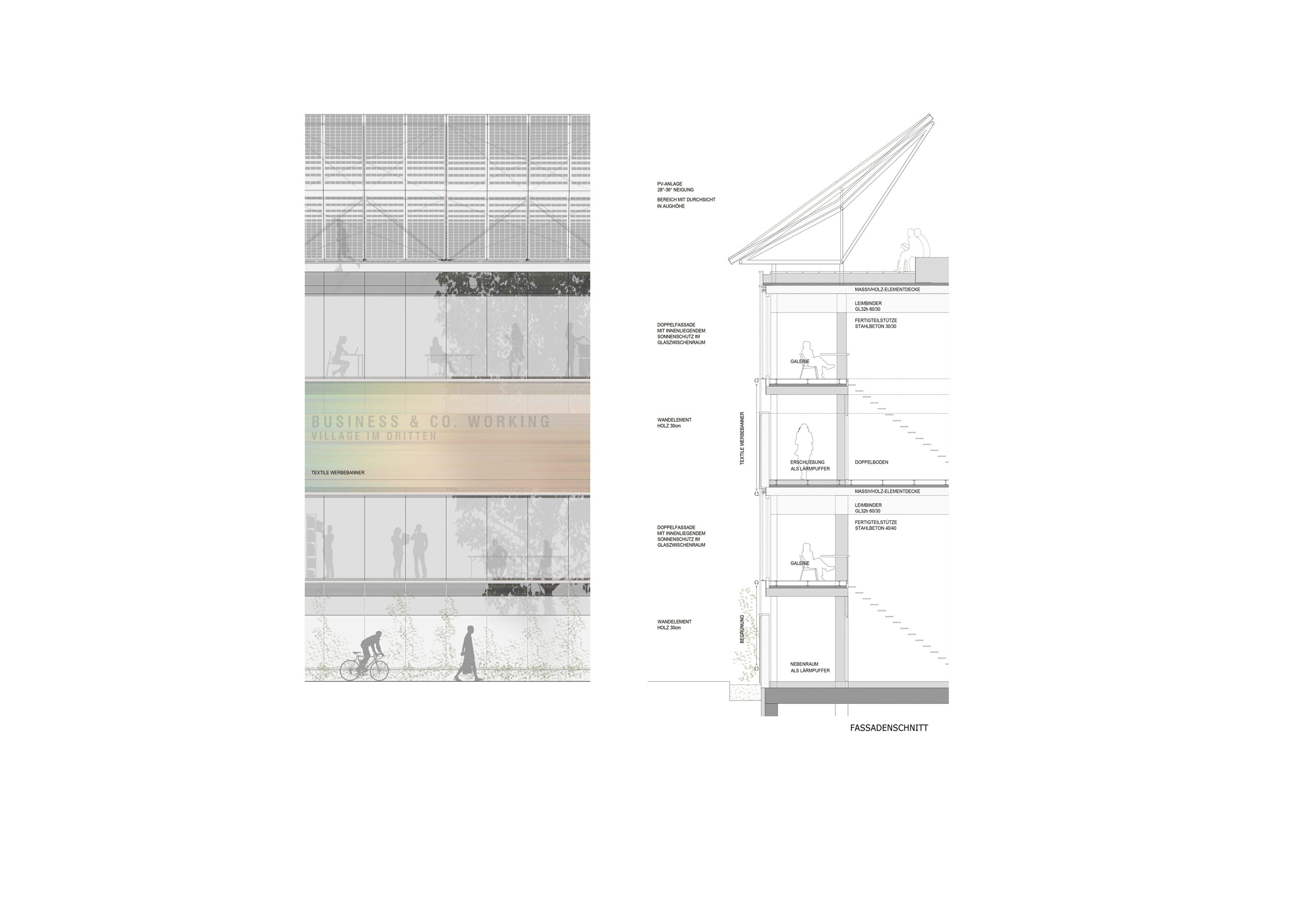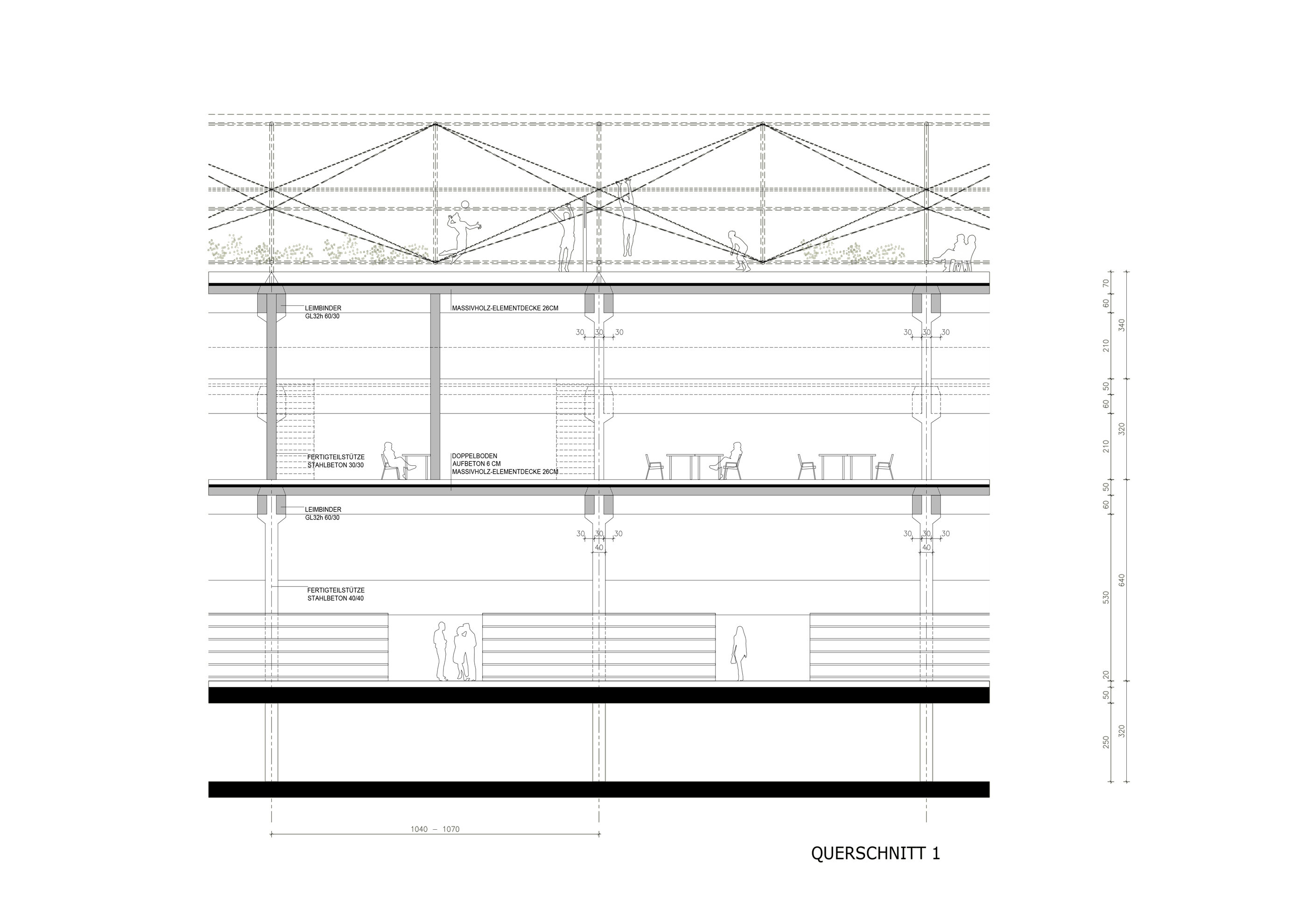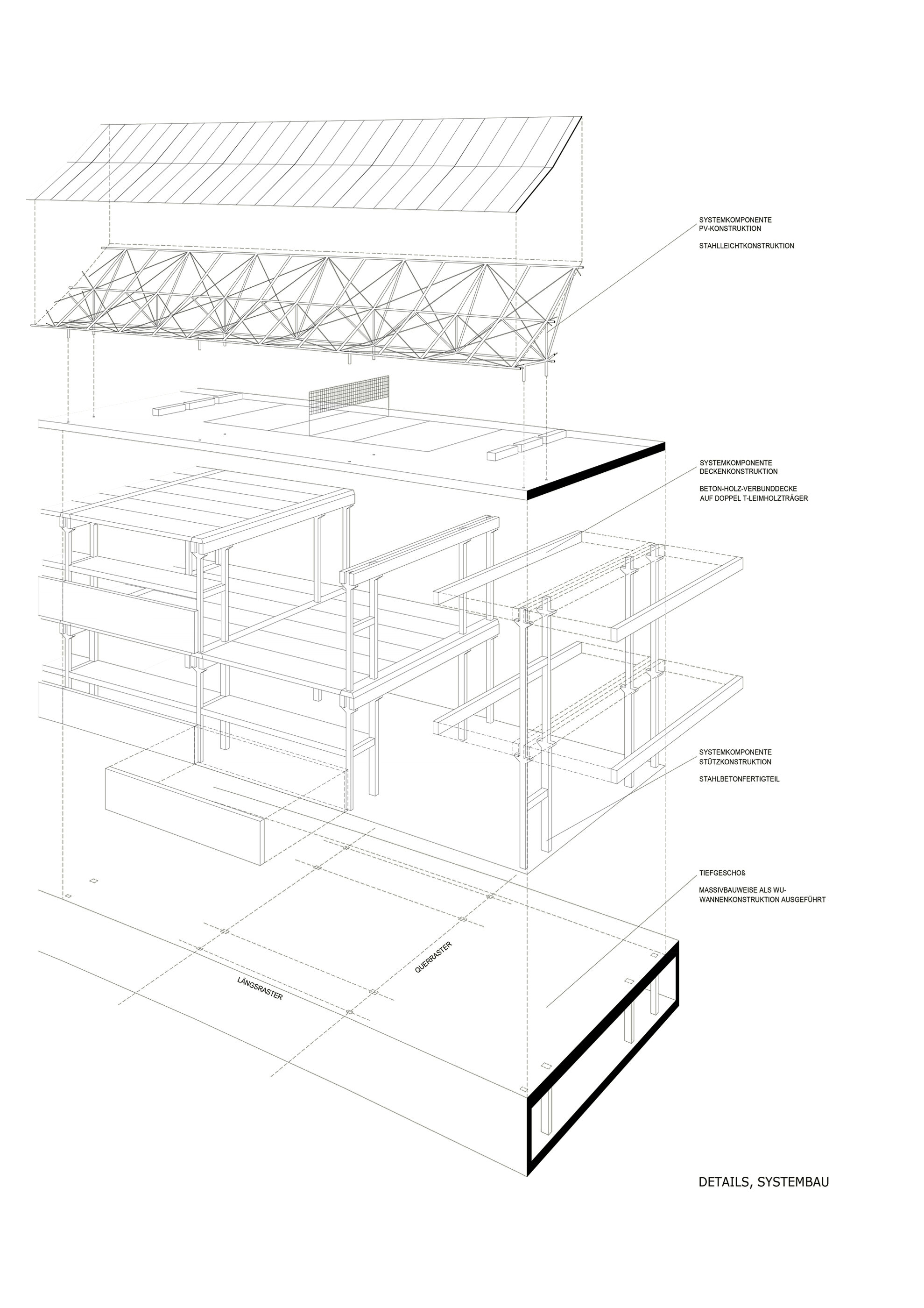 The 320-metre-long Gürtelbogen (Gürtel or ring-road arc) is the address, noise barrier and urban centre for the "Village in the Third District". The facade along the internal Quartierstrasse or District Street (used as a shared space) is intended as a sequence of shops and service businesses that is as continuous as possible. Above these ramps a wide staircase accesses the roof garden of the Gürtelbogen.

The facade to the Gürtel and to the south is intended to convey the innovative character of this quarter to the outside world. The long curve made by the building, which is registered above all by motorists, is defined by three horizontal bands: at pedestrian level a vertical layer of climbing plants; at first floor level, which is the most clearly visible, a screen for advertising and display purposes; and, as the roof edge, a photovoltaic power plant that is inclined to optimize solar incidence.

The completely prefabricated primary structure is made up of extensively used timber building elements (beams, floor slabs, walls).

All in all, the aim is to make a contemporary building that focuses on the use of ecological materials, the exploitation of solar energy (the photovoltaic plant completely covers the building's energy needs), and on improving the climate through surfaces covered by planting.

The main axes of the loadbearing structure are at 10.40 metre centres (four carparking spaces in the garage) and allow a minimal rental unit of c.  80 m2 with a width of 5 m. In the long direction, as the cores are placed on an external wall there are no major restrictions or interruptions to the units.

To create an effective noise barrier for the internal area of the district that will screen traffic noise created by the Gürtel motorway the authors propose connecting the two individual buildings by means of the corridor at first floor level and the solar panels erected above. Only the driveway through the building at ground floor level remains open.

This unusually long building corresponds with the scale of the buildings on the (opposite) Arsenal side of the Gürtel and relates to the early achievements of industrial building in Austria (Tobacco Factory in Linz by Behrens and Popp).
client:
ARE Austrian Real Estate GmbH

invited general planner selection procedure,
winning project

Team ARTEC Architekten:
Bettina Götz and Richard Manahl
project management:  Jun Wook Song
Johannes Giselbrecht, Josef Schröck, Björn Wilfinger
Gerda Polig, Sedef Kücükandac, Matthias Numberger
Patrick Pregesbauer, Michael Hafner
competition:
Jun Wook Song, Josef Schröck, Gerda Polig
Sedef Kücükandac

photography:
ARTEC Architekten (model)
models:
Roland Stadlbauer (competition model)
Micha Nikolussi (wooden model)

renderings:
Zoom VP

being planned
Project Data
structural engineering: Werkraum Ingenieure, Vienna
building physics: DI Bernhard Sommer, Vienna
building services:  Thermo Projekt, Vienna
electrical planning: tgaplan, Vienna
fire protection: Kunz - Die innovativen Brandschutzplaner, Mödling
cost calculation: Klösch & Riedler,  Vienna

start of planning: 2021
start of construction: 2022
completion: 2023

plot area: 7.148 m2
built-up area: 4.300 m2
gross floor area above ground. : 11.540 m2
effective floor area: 9.693 m2
enclosed space above ground: 55.300 m2