Residence Olympic Village
Innsbruck / Tyrol
2015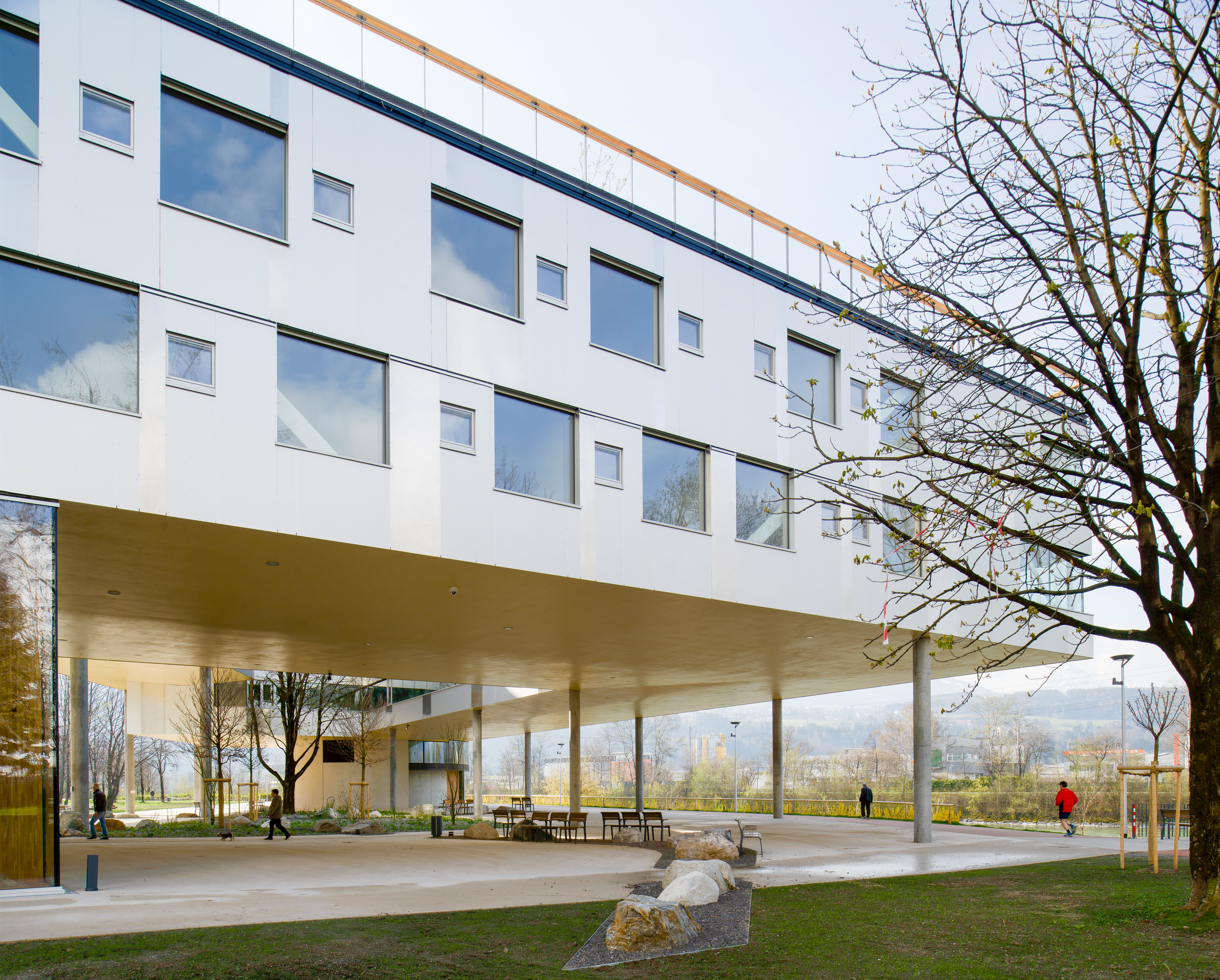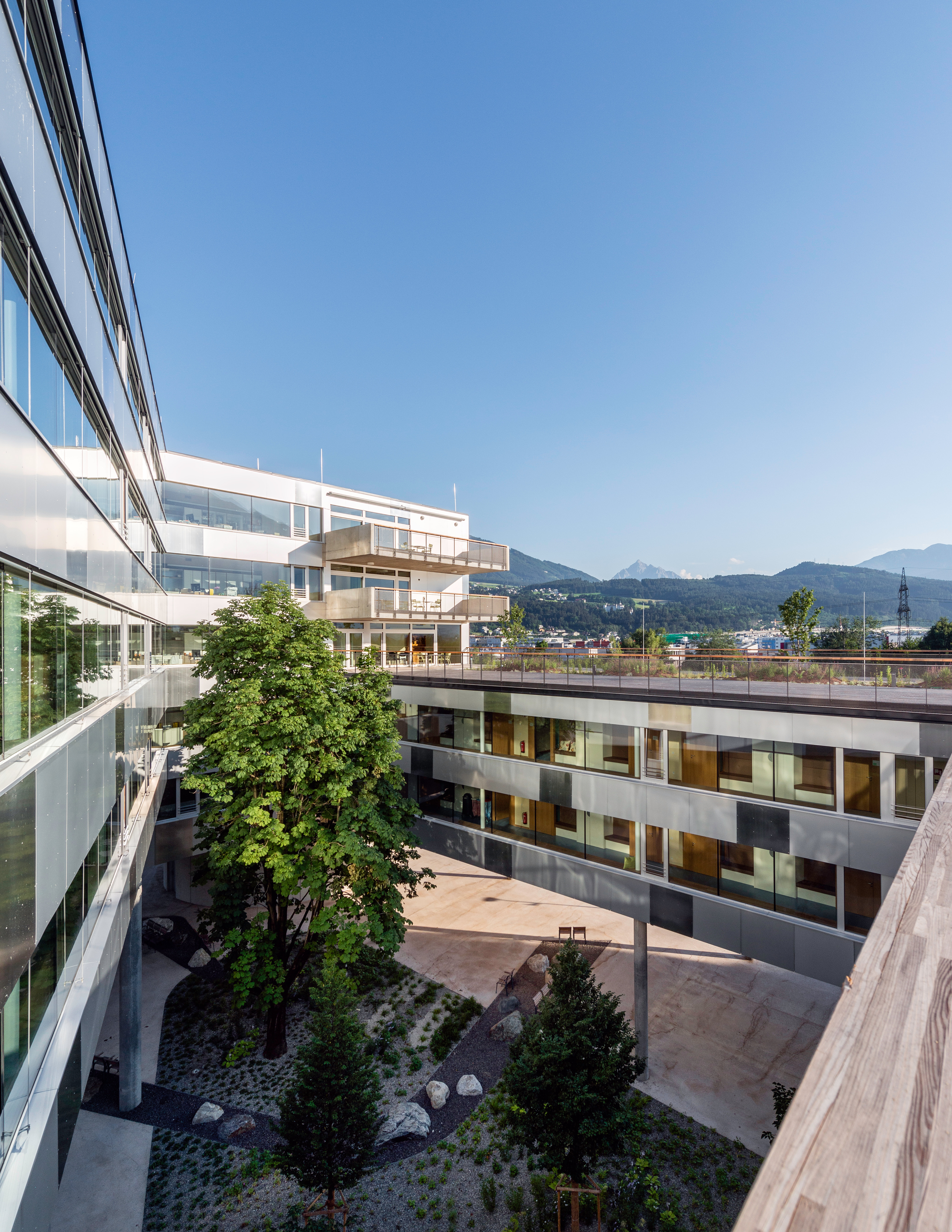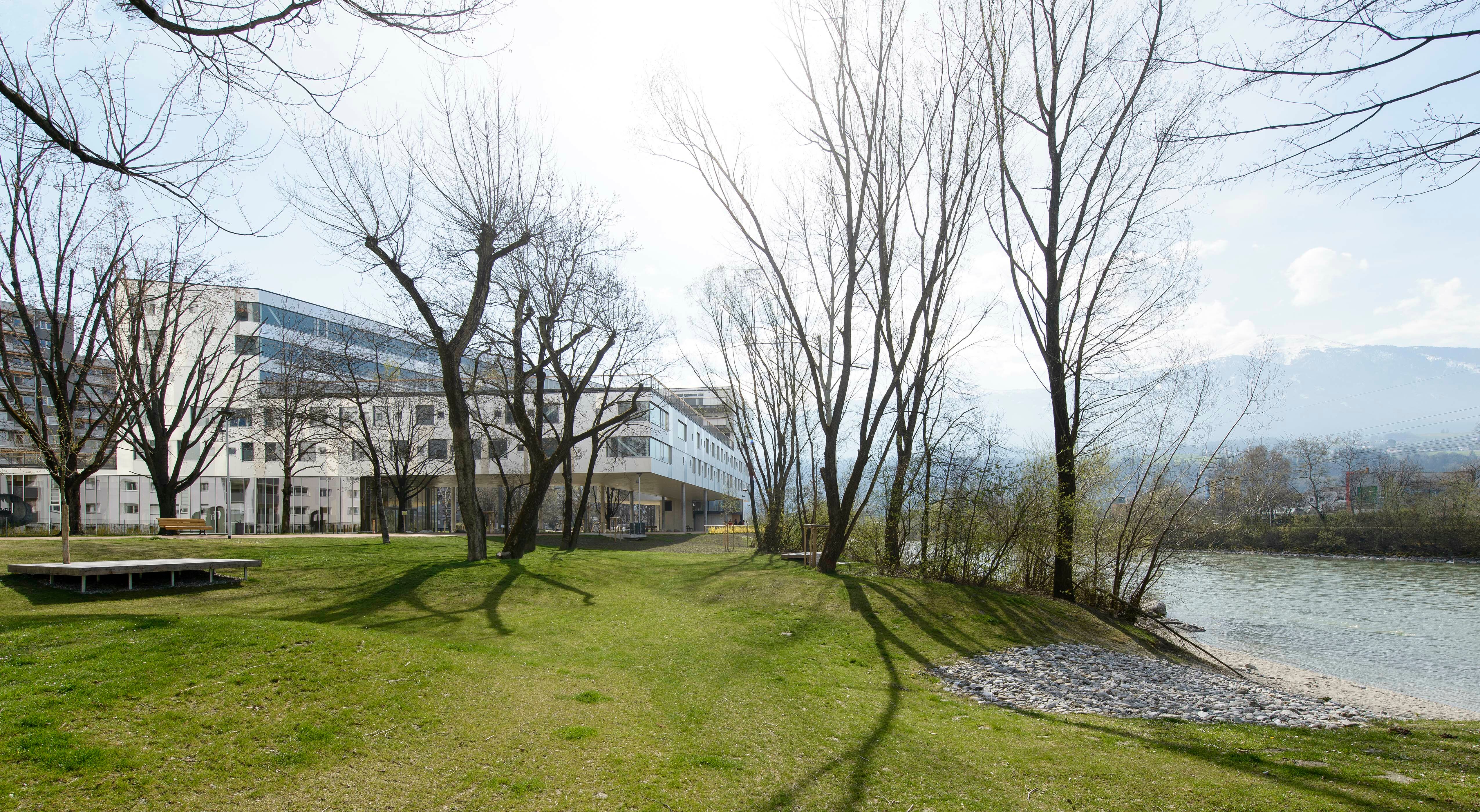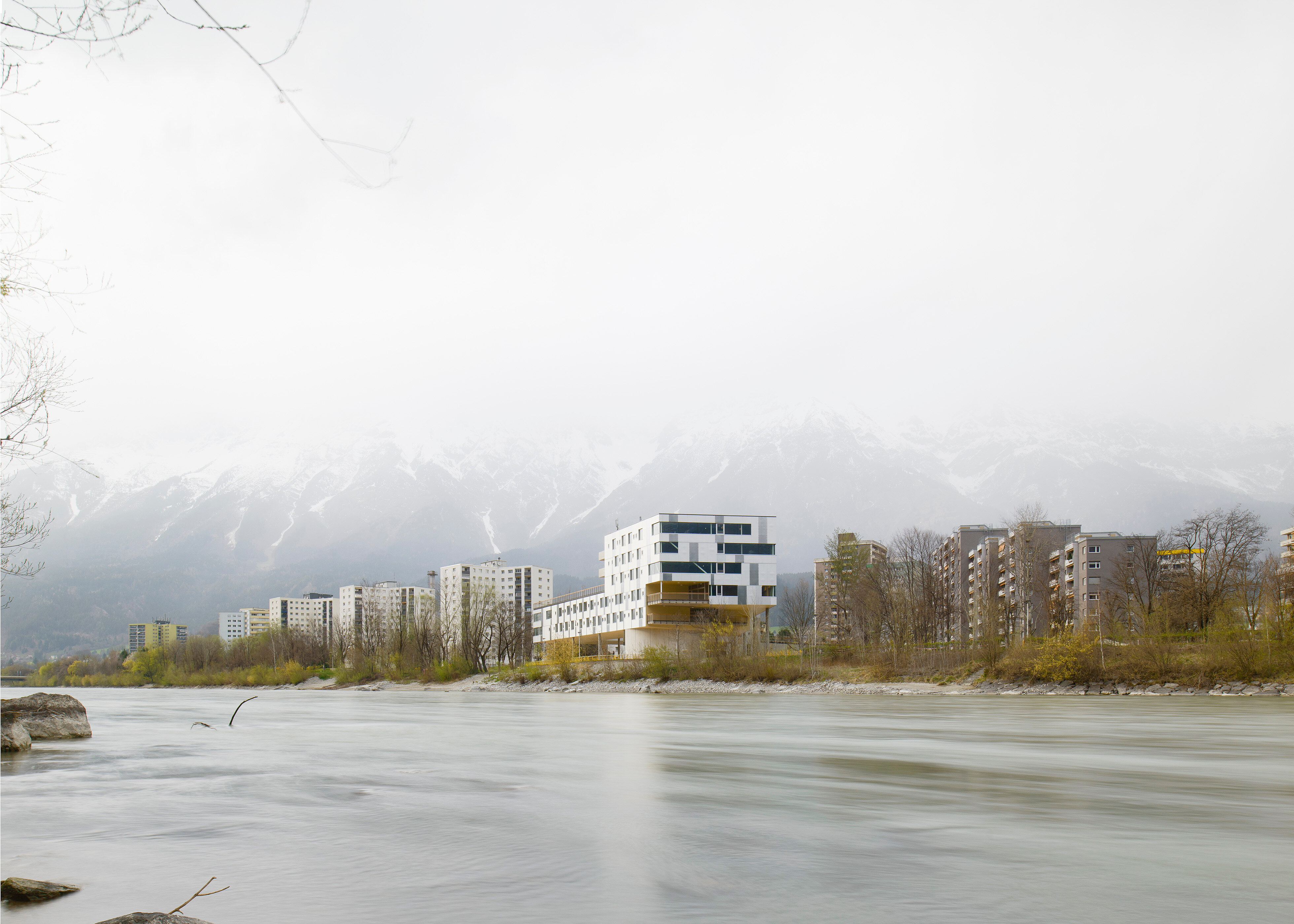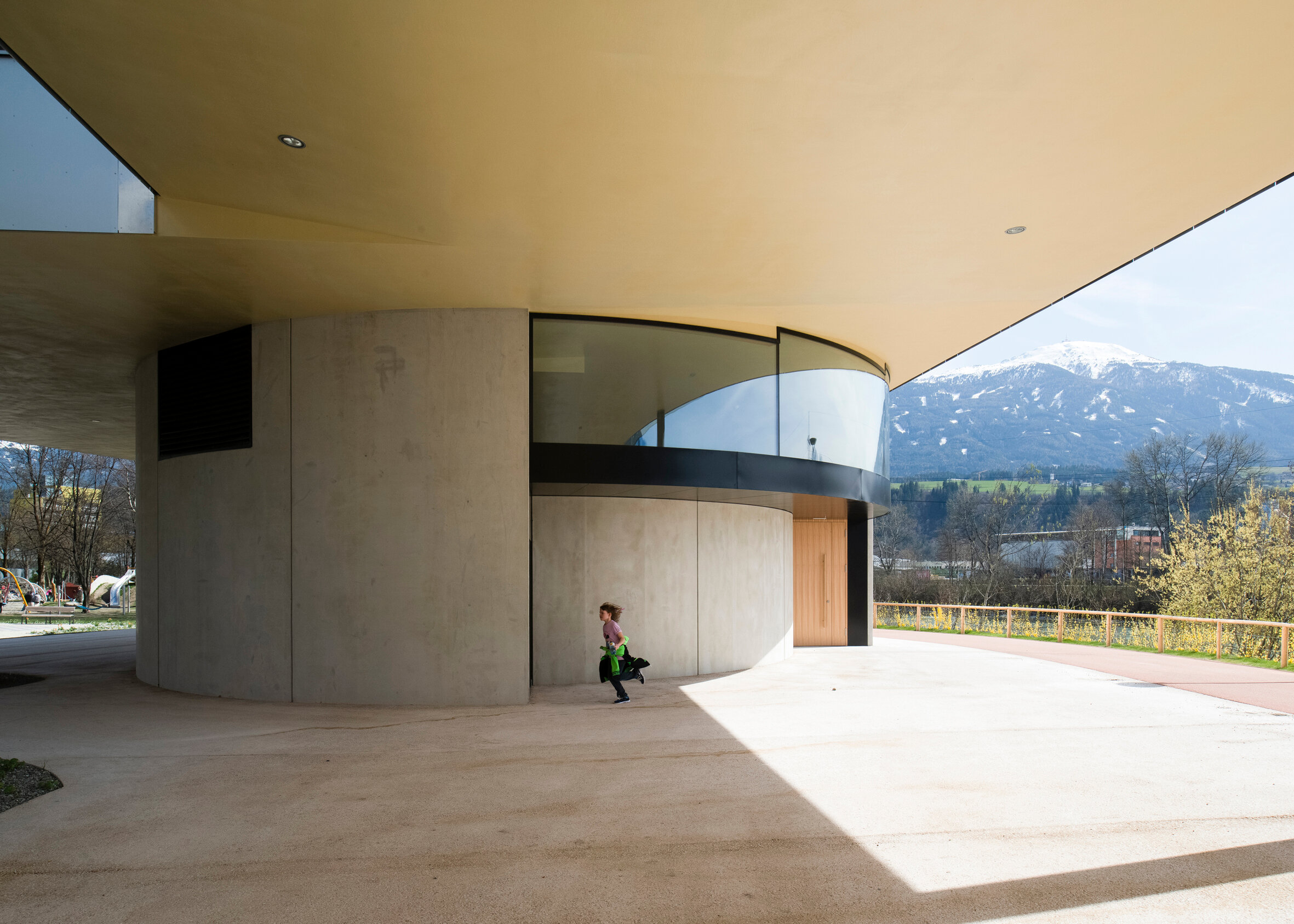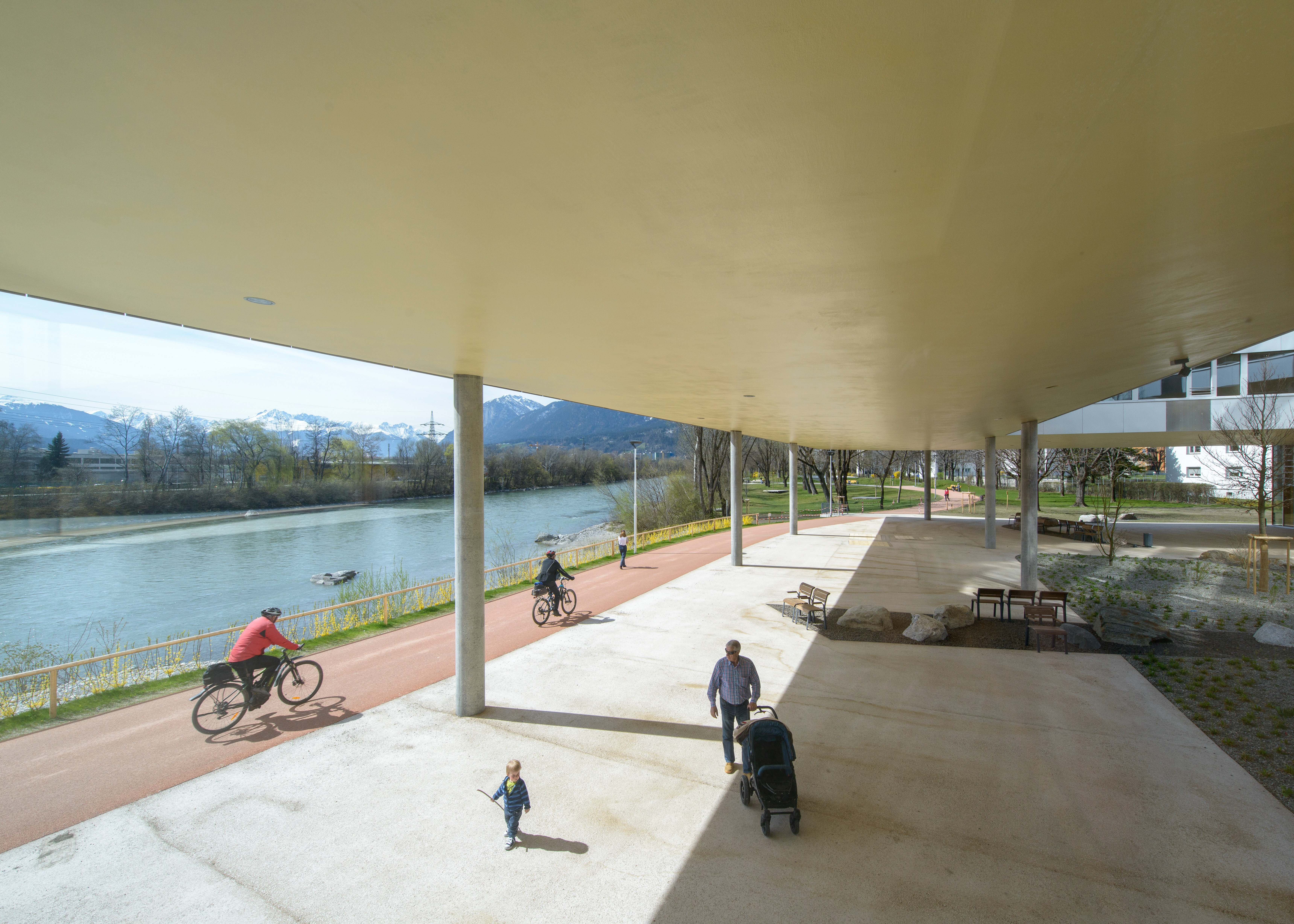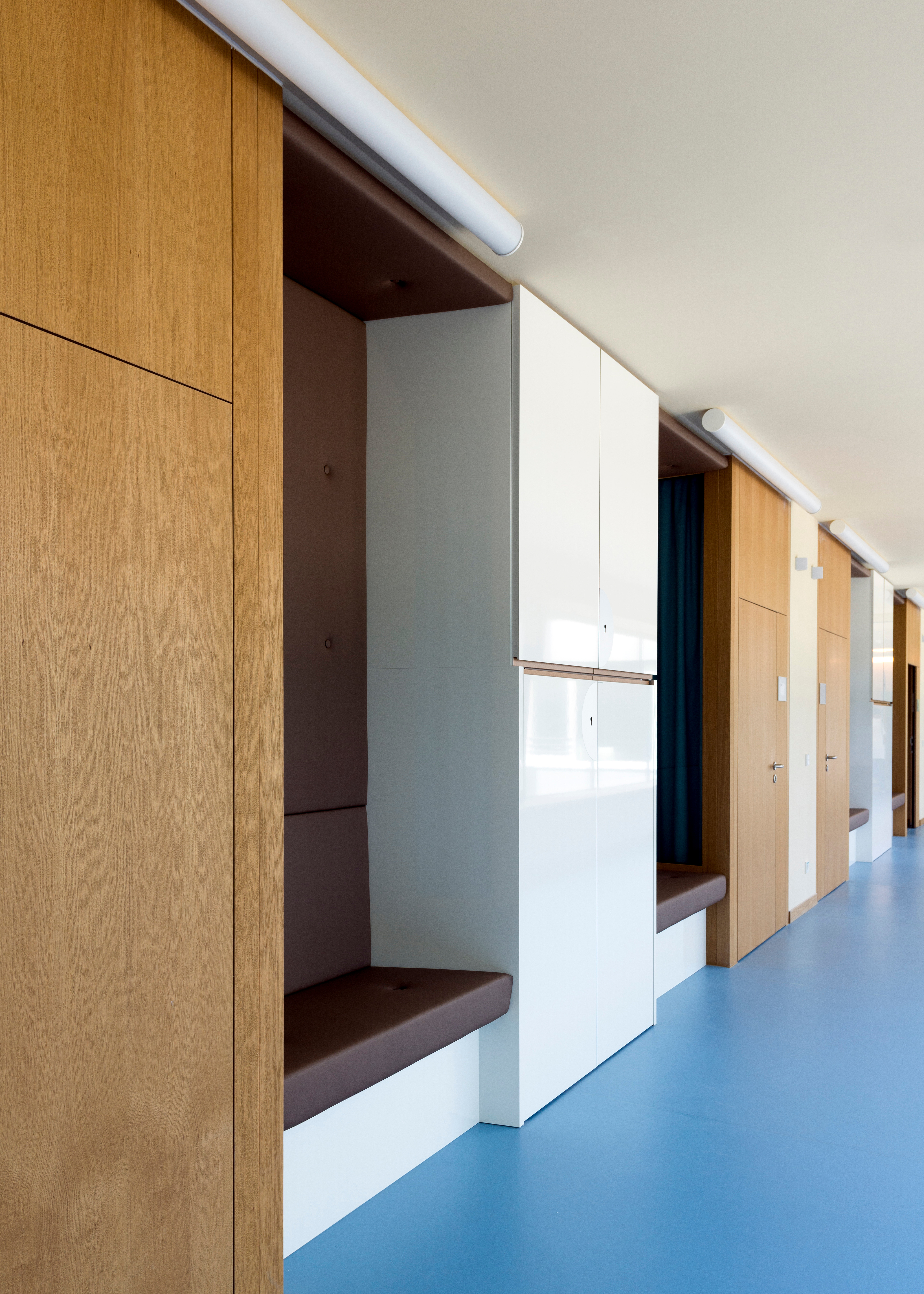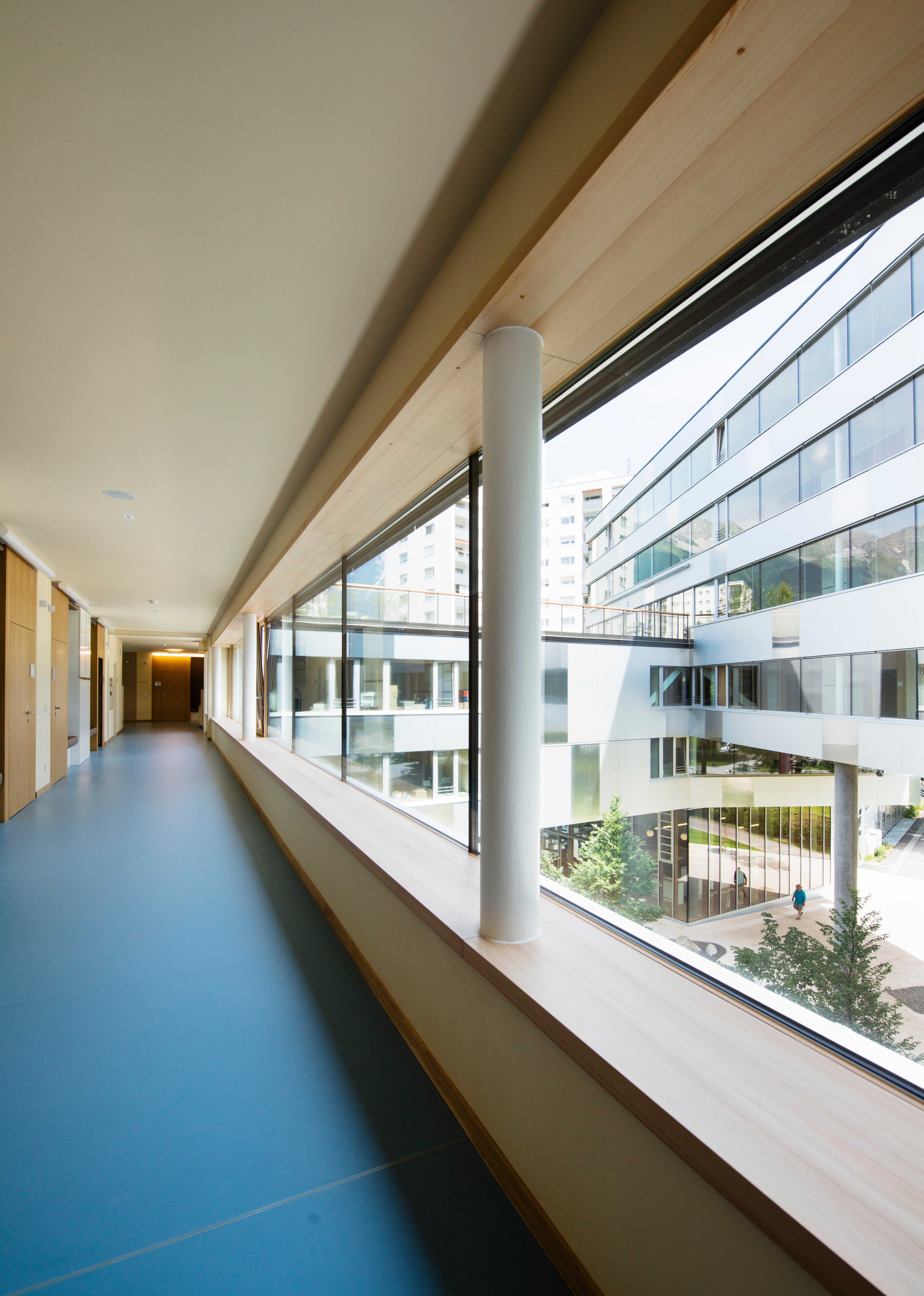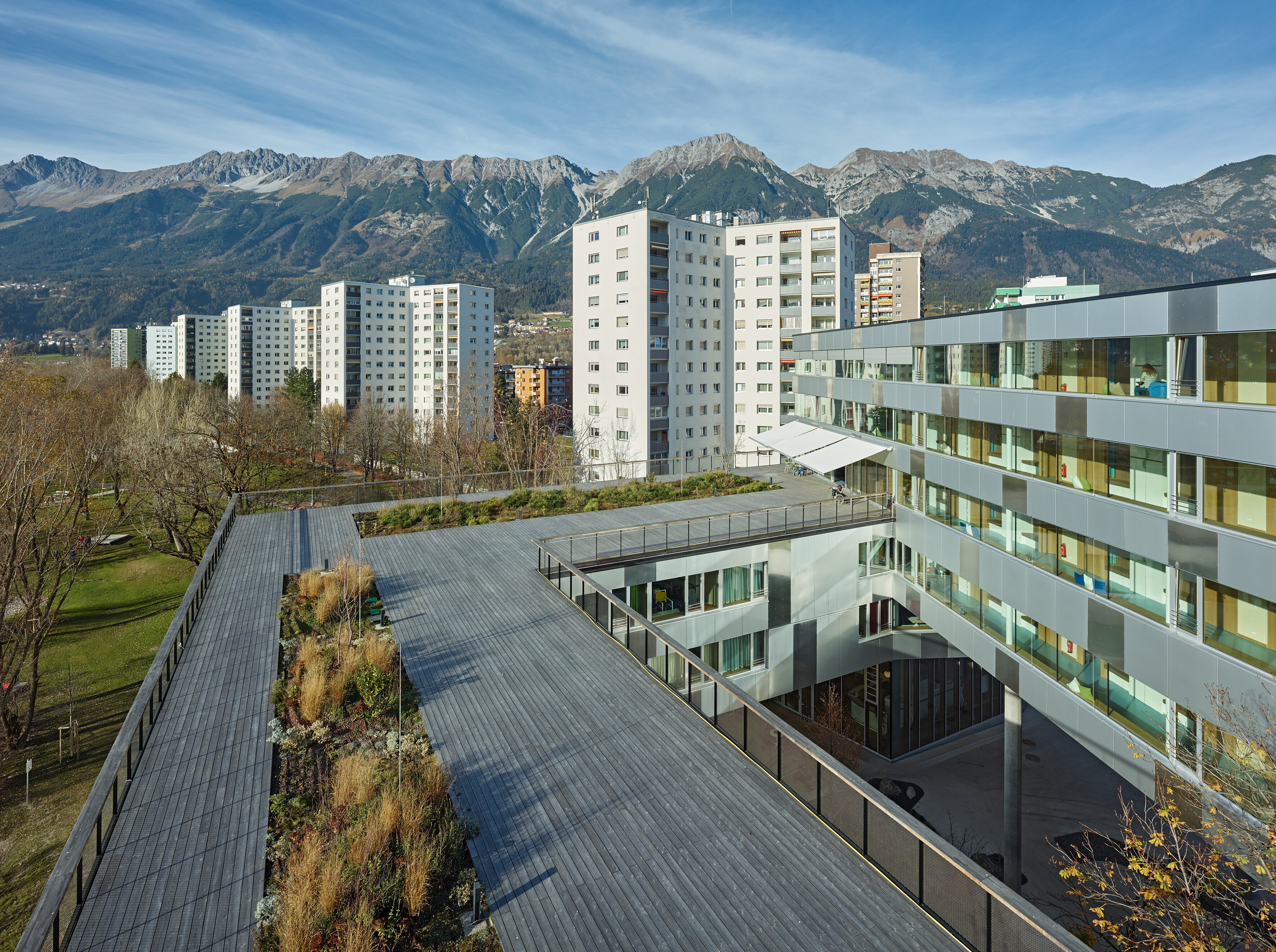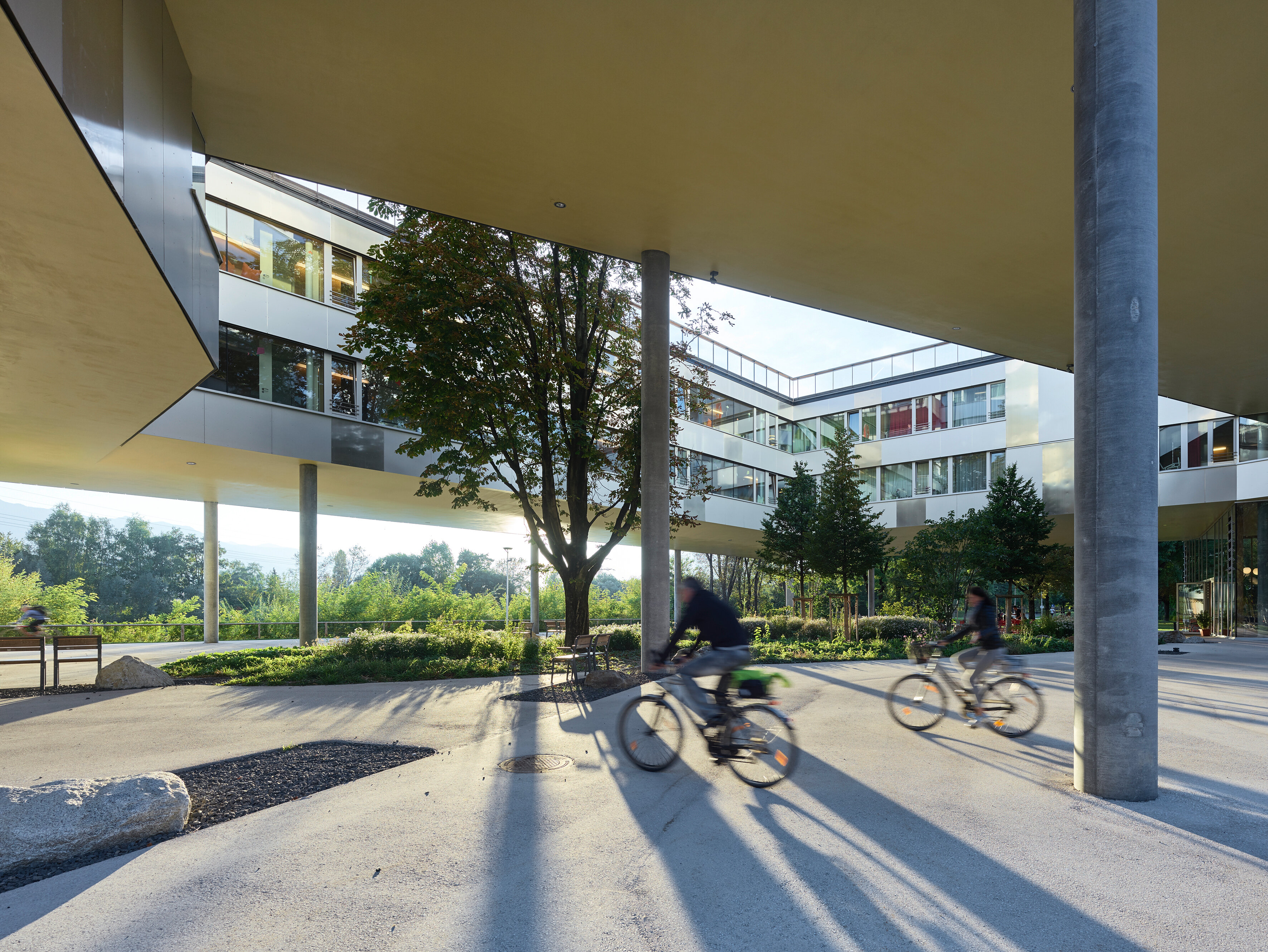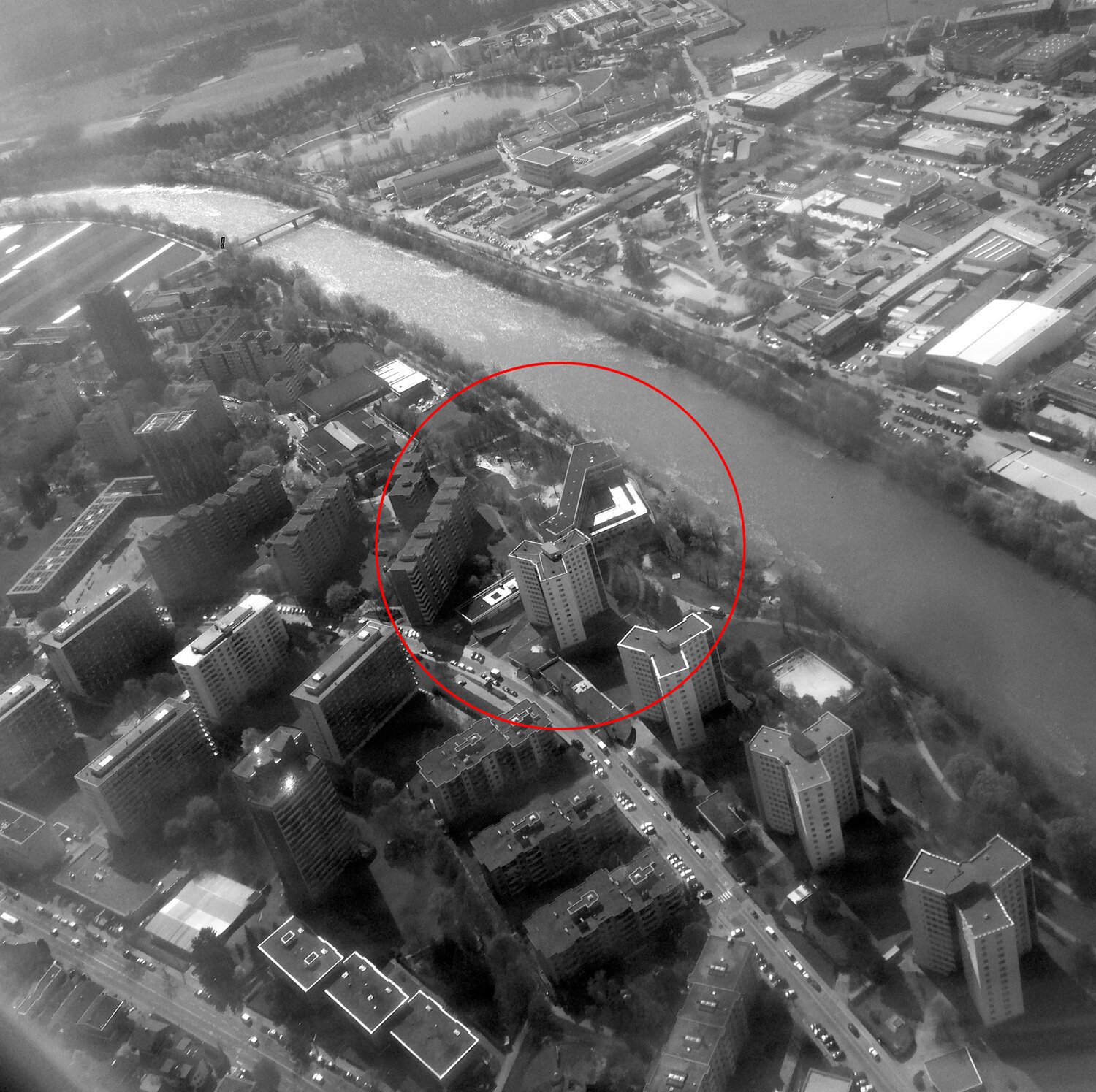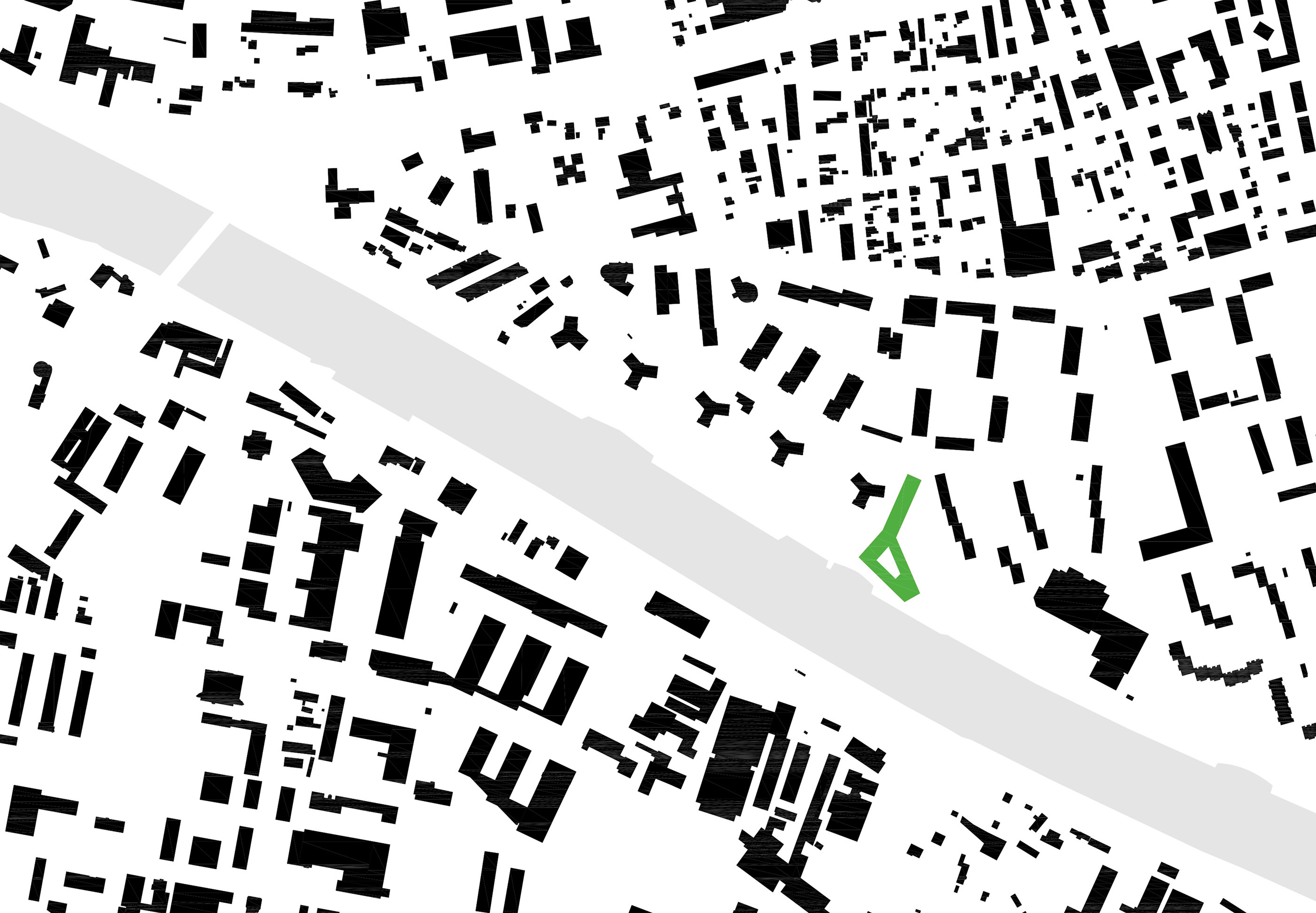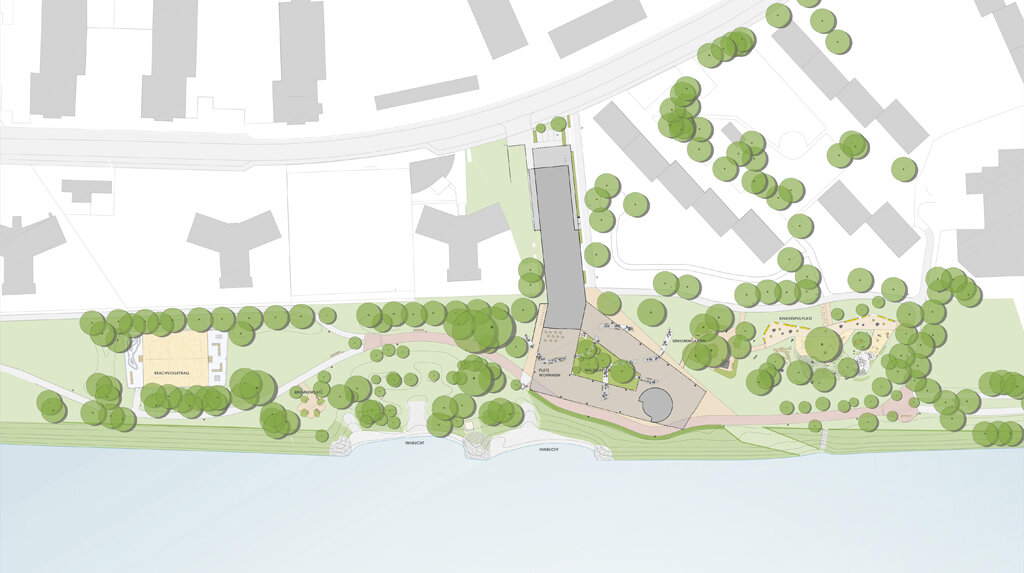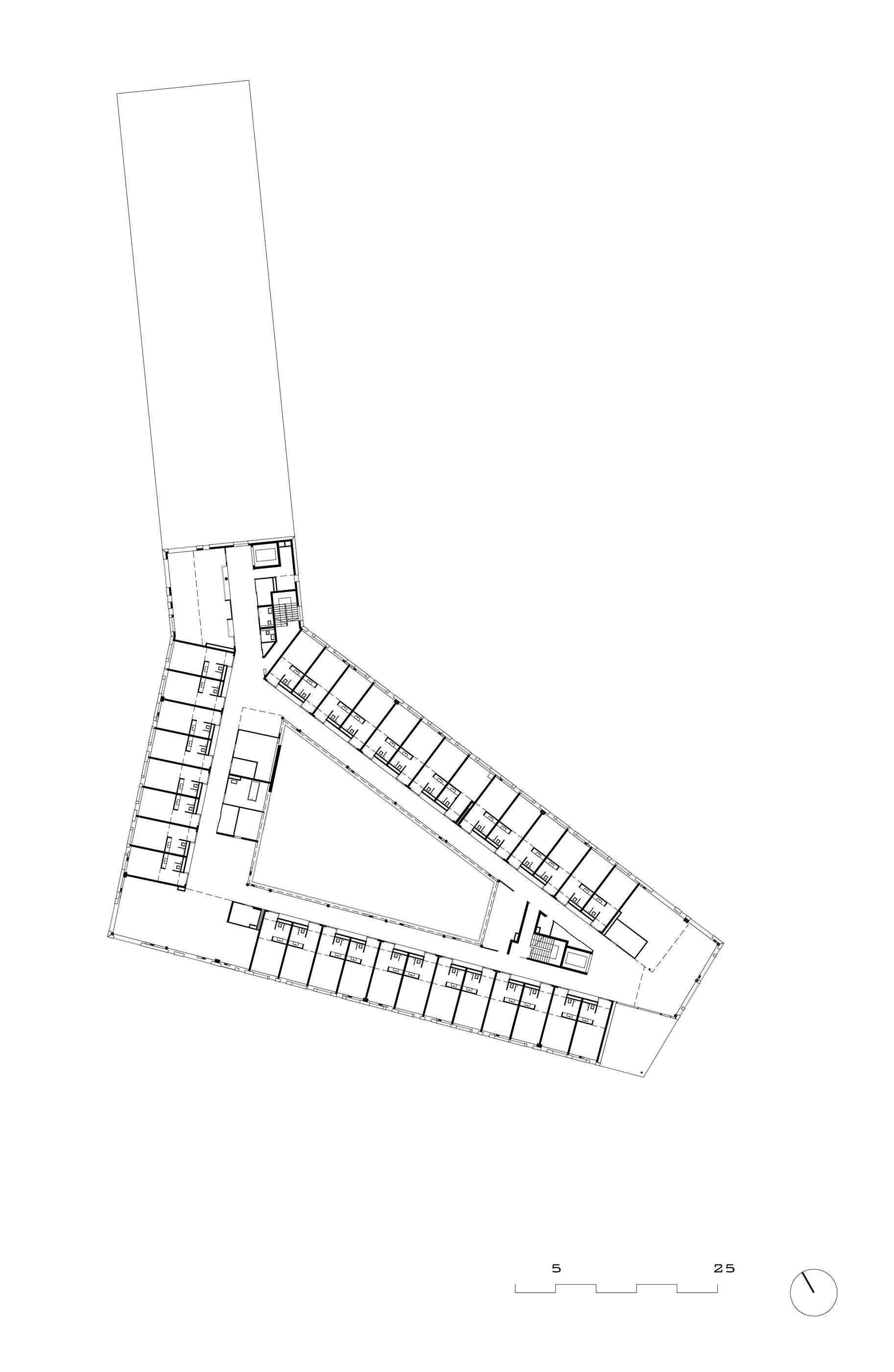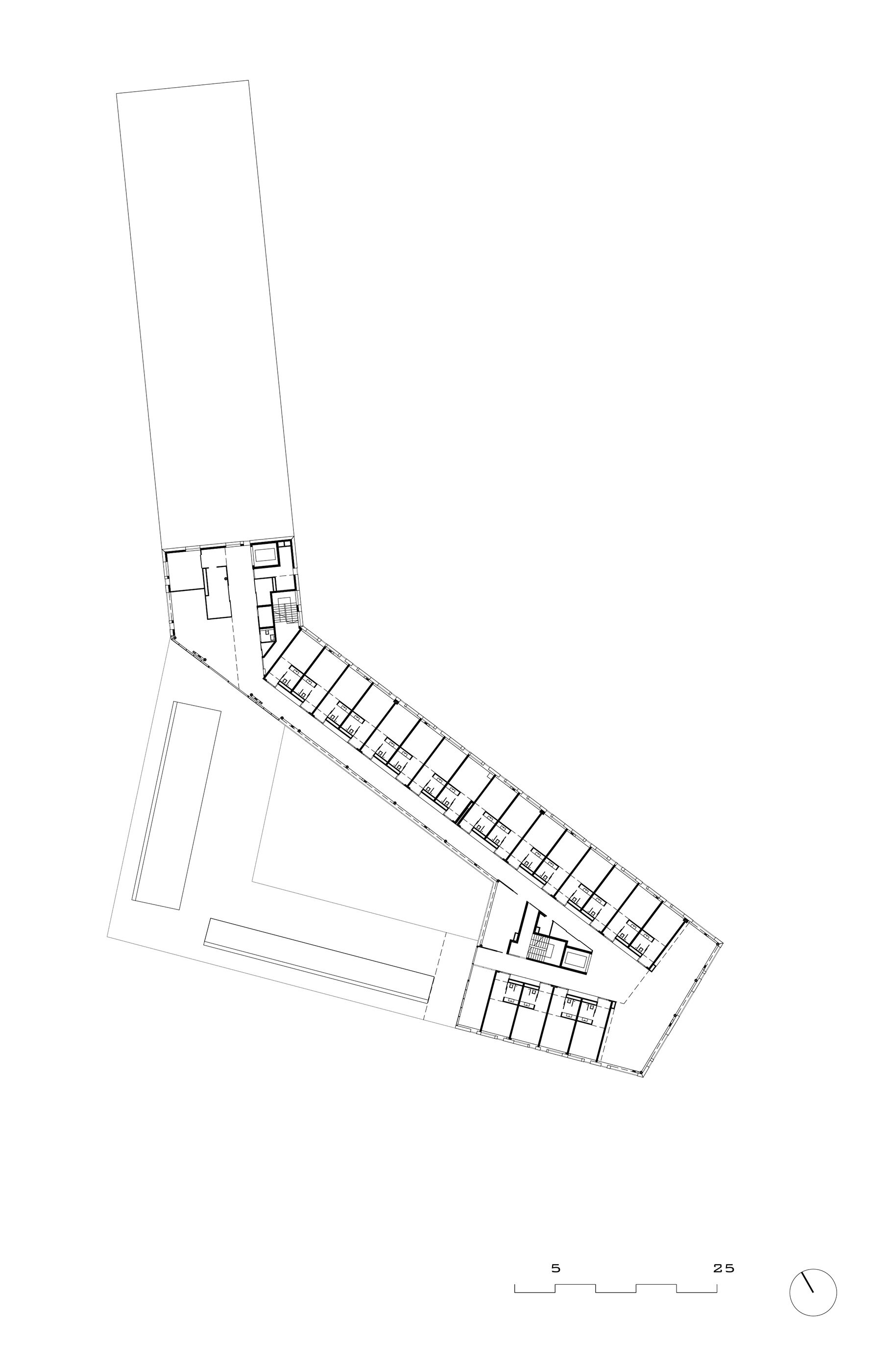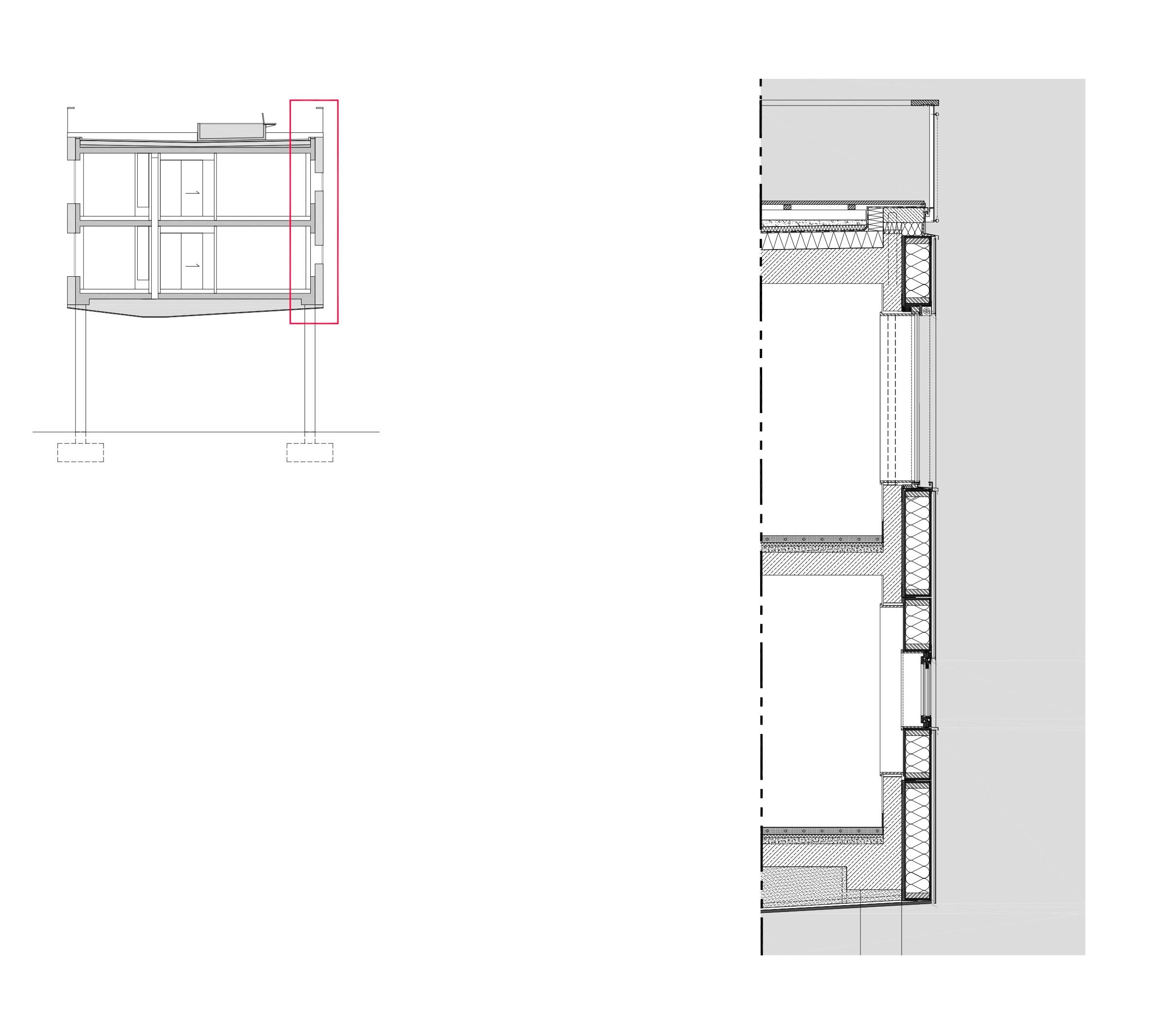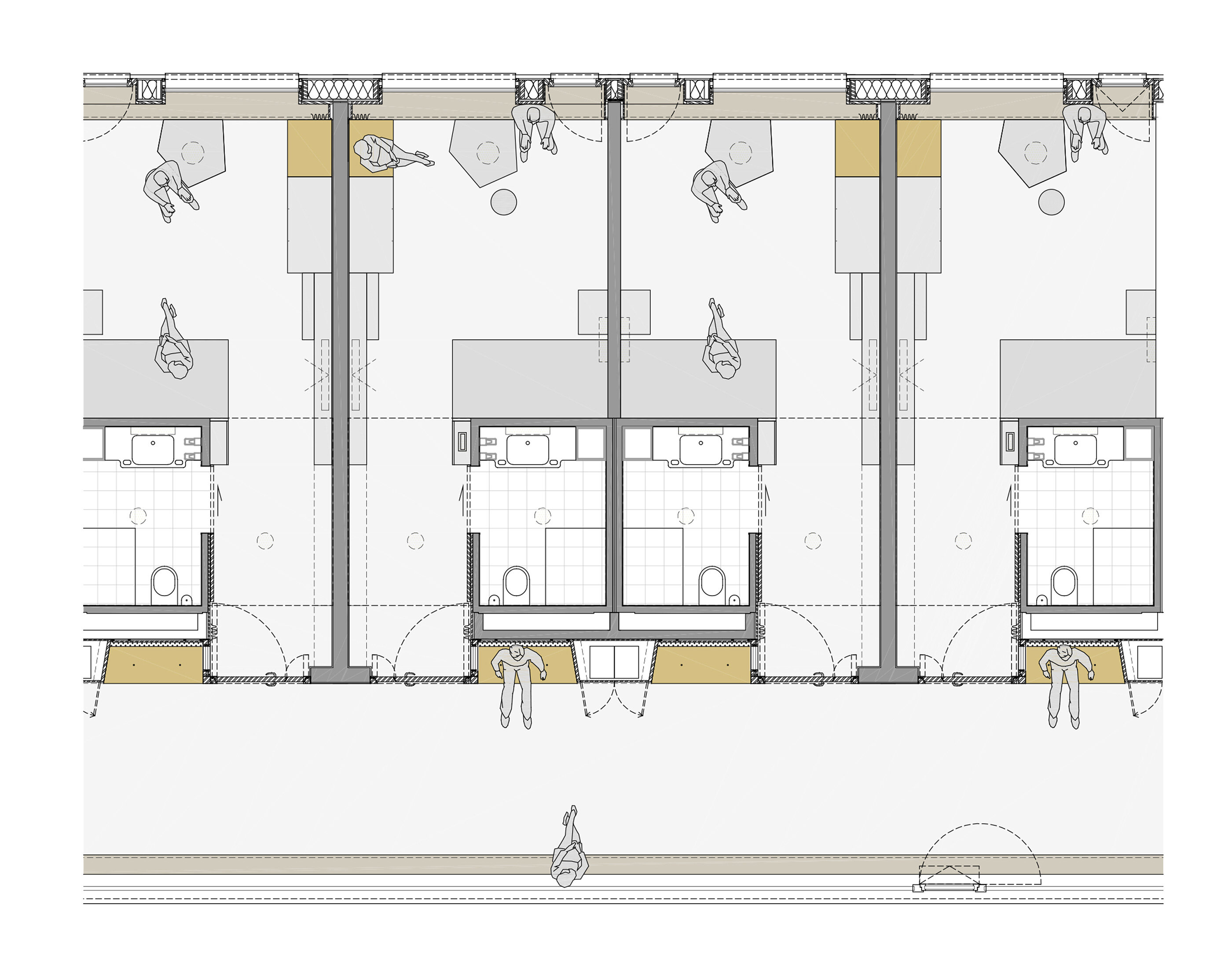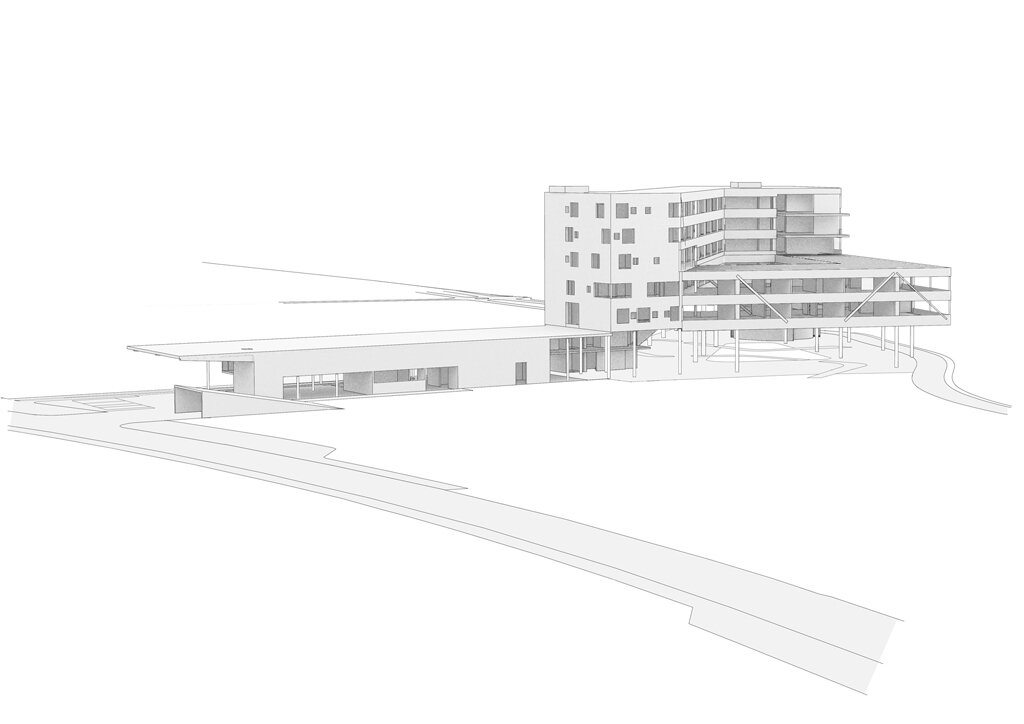 The building occupies a part of the riparian landscape along the river Inn. As compensation it shares its programmed spaces with the city's residents: the café – a place of communication – as a glazed volume in the park with both introverted and extroverted outdoor seating, and the chapel, a place of contemplation, a closed and sacred solitary structure, recognizable as such. The building massing suspended above these spaces and a square oriented to the river provide a datum line. The building is raised on piloti at the river bank, broken down into two- and four- story wings. This produces differentiated, generously dimensioned terraces for the residents. The general- purpose  areas – with connections  to the terraces, the park landscape, the Inn, as well as views to the mountains – lie on the respective ends  of the residential floors.  The transition from the public spaces in the building to the residents' rooms was articulated in different ways: a bench in front of the entrance to the room – bringing to mind the benches flanking the area's traditional farmhouses – create a discrete visual link to the respective rooms, thereby designating them private spaces. The main entrance to the building is situated in the low-slung service wing. A multipurpose room on the ground level can be joined with the café to create a large event space.
invited competition,
1st prize

client:
StadtBAU and ISD

Team ARTEC Architekten:
Bettina Götz and Richard Manahl
project management: Björn Wilfinger
Johannes Giselbrecht, Gerda Polig
visuals: Jun Wook Song
models: Gül Cakar, Héctor Farrré Cortada, Isabel Messner, Emanuel Parkmann
furniture planning: Eva Mair; Irene Carlés Gaspar
competition: Gerda Polig, Josef Schröck, Jun Wook Song, Sandra Crisafulli
models - competition: Gül Cakar, Carl Auböck, Marianne Lercher, Anne-Laure Gerlier

awards:
Constructive Alps 2017, nomination
Piranesi Award, 2015, nomination
Clients' Award of the ZV to the City of Innsbruck, Stadtbau and ISD, 2015

photography:
Lukas Schaller
Bruno Klomfar
ARTEC Architekten (aerial photo)
Project Data
landscape planning: Auböck + Kárász, Vienna
local construction supervision - facility: Werner Kleon
supporting structure planning: ZSZ Ingenieure, Innsbruck /werkraum Ingenieure, Vienna (competition und consultants)
building services: A3, jp-haustechnik, Innsbruck
electricity planning: TB Lasta, Innsbruck
building physics: Karl Torghele, Dornbirn / Kernplus, Vienna (competition and consultants)
energy consulting: Hannes Gstrein, Innsbruck
passive house planner: Herz & Lang GmbH, Weitnau, BRD
fire protection concept: IBS, Innsbruck

start of planning: 2011
start of construction: 2013
completion of the building: 2014
completion of furnishing: 2015

plot area: 4.327 m²
built-up area: 1.250 m²
effective floor area: 8.731 m² (above-ground)
total gross floor area: 11.243 m² (above-ground)
enclosed space: 37.200 m³ (32.000m³ above-ground.)

rooms: 118
passive house, heating demand according to Passivhaus Projektierungspaket (PHPP) 13,6 kWh/m²a, primary energy requirement according to PHPP 180,6 kWh/m²a
Publications
Oris Nr. 109, Zagreb, 2018. Vera Grimmer: "The Possibility of Community"
Best of Austria_Architektur 2014_15. Herausgeber AzW, Wien, und Park Books, Zurich
Die Presse, Spektrum, Vienna, 16. 1. 2016. Christian Kühn: "Schweben mit Verstand"
Architektur Aktuell, Vienna, 12. 2015, Nr. 429. Isabella Marboe: "…Stadt-Land-Fluss"
Bauherrenpreis '15, Architektur im Ringturm, ZV, Müry Salzmann Verlag, Salzburg-Vienna, 2015
Architektur Aktuell, Viena, 10. 2015, Nr. 427. ZV-Bauherrenpreis 2015
Tiroler Tageszeitung, 5. 10. 2015. Edith Schlocker: "Ein Haus, das eine Brücke ist"
Tiroler Tageszeitung, 23. 9. 2015. Manfred Mitterwachauer: "Das jüngste Heim-Baby nahm die letzte Hürde"
ORIS 88, 2014. ORIS d.o.o., Zagreb. "New programs make new architecture possible"
Wohnen Plus, 2 / 2014, Wien. Gisela Gary: "Sportlich ambitioniert, sozial engagiert"
Wettbewerbe, Vienna, 303, Mai/Juni 2012
Tiroler Tageszeitung, 19. 11. 2011. Manfred Mitterwachauer: "Wenn das Alter über den Dingen wohnhaft wird"